Ground Broken for Critical Care Center
Date Posted: 11/10/2008 12:52:55 PM
Last Updated: 11/12/2008 9:03:35 AM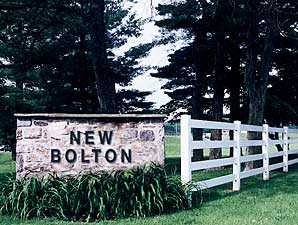 Photo: Anne M. Eberhardt
Edited University of Pennsylvania press release
Ground has been officially broken for the state-of-the-art James M. Moran, Jr., Critical Care Center at the University of Pennsylvania School of Veterinary Medicine's New Bolton Center. The center is named in memory of Elizabeth Moran's son, James, died this past April. Major funding for the center was provided by Moran, who owns Brushwood Stable, and the Commonwealth of Pennsylvania.

"We are delighted to begin construction of the George D. Widener Hospital's cutting-edge facility for high-risk patients," said Dr. Joan C. Hendricks, the Gilbert S. Kahn Dean of Veterinary Medicine. "We were honored by the many years of service given New Bolton Center by Jim Moran and can think of no more fitting memorial than to name this much-needed facility in his honor. In addition, the commonwealth's investment in this facility, announced by Governor Ed Rendell in June 2006, is a gift to the state as a whole, to support the health of food animals as well as horses, as the equine and racing industries in Pennsylvania grow. We are proud to transform this gift into a great benefit that serves the needs of agriculture and horses in the region."

More than 70 guests attended the ground-breaking ceremony in October, including Moran and her five surviving children.
"I knew Jim had been involved with New Bolton Center, but until now I didn't realize to what extent," Moran said. "The whole family is honored to have his name on this building."
The center will have two wings, one with ante-chambers dedicated to isolation cases and one for colic cases. The 18,540-square-foot facility will be the largest clinical addition to the George D. Widener Hospital for Large Animals since the completion of the C. Mahlon Kline Orthopaedic Center in 1972. It will be constructed with low-maintenance and durable materials in keeping with the Chester County farm vernacular. The center will be located on a biosecure area on the service drive at New Bolton Center and is expected to be completed next year.

"This new facility will play a vital role in protecting Pennsylvania's world-class equine industry, and with it, our agricultural industry as a whole," said Pennsylvania Secretary of Agriculture Dennis Wolff. "By providing the highest level of care for animals, Penn Vet and the New Bolton Center will continue to treat animals from across the country and provide top-notch education to our state's veterinary students. These enormous contributions benefit all Pennsylvanians."

Also in attendance were State Senator Dominic Pileggi, chair of the House Agriculture Committee, the Honorable Art Hershey. and members of the school's Board of Overseers.

"This new critical care center will help ensure that our most critically ill patients have the optimal housing for their care," said Dr. Dean W. Richardson, Charles W. Raker Professor of Surgery and chair of New Bolton Center's Section of Surgery. "This will improve treatment of these critical patients at the same time that it will allow their separation from each other and less seriously ill patients elsewhere in the hospital."
Copyright © 2015 The Blood-Horse, Inc. All Rights Reserved.