Jerkens to Return Home Next Tuesday
by Steve Haskin
Date Posted: 11/7/2008 11:41:44 AM
Last Updated: 11/8/2008 3:06:49 PM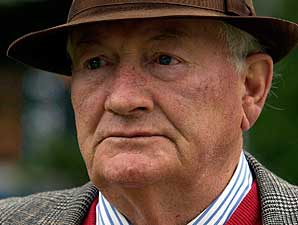 Allen Jerkens
Photo: Anne M. Eberhardt
Hall of Fame trainer Allen Jerkens, who is recovering from heart surgery last month, is scheduled to be released from Parker Institute of Health Care and Rehabilitation on Long Island next Tuesday, Nov. 11.
"I'm feeling pretty good," Jerkens said. "It's taken longer than we thought, but I was able to climb nine steps this morning, so at least I'm getting there. We have stairs at home, so I'll have to be able to climb them."
Jerkens said he's looking forward to returning to the barn, and he and his wife Elizabeth are still planning on going down to Florida with the horses for the winter, as they do every year.
"When I get home, it'll all depend on how I feel," he said. "I'll take a ride out to Belmont for an hour or so each morning and see how that works out. It's been tough being away from the horses, but they've been in good hands with Fernando (assistant Fernando Abreu)."
Copyright © 2015 The Blood-Horse, Inc. All Rights Reserved.