First-Crop Weanling Chatter
by Leslie Deckard
Date Posted: 11/5/2008 7:23:40 PM
Last Updated: 11/6/2008 10:43:47 AM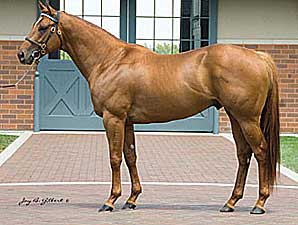 Henny Hughes, whose weanlings have been getting positive reviews at the November breeding stock sale.
Photo: Joy B. Gilbert
The annual November breeding stock sale is a showcase of first-crop weanling sires. Below is a random sampling of comments about the new sires and their weanlings.
Bobby Dodd, Florida-based pinhooker: "I like Henny Hughes, Bluegrass Cat, and Rockport Harbor. The foals by Henny Hughes have a real good body, good-legged, and have a real athletic look. Most of the Henny Hughes and Bluegrass Cats are a little more uniform and look the same and the Rockport Harbor foals look a little different from each other. I think they are all three real good horses."
Hoby Kight, Florida-based pinhooker: "I agree with Bobby. I like the Henny Hughes, Bluegrass Cats, and Rockport Harbors. I don't think Rockport Harbor got the book of mares that Henny Hughes and Bluegrass Cat did. The Bernardinis are up and down. There are some really good ones, and some of them are a little A.P. Indy-looking—short legged and big bodied."
Bob Manfuso, owner of Maryland-based Chanceland Farm: "I haven't looked at the weanlings that closely, but I thought the Henny Hughes foals I have seen have looked good. They have a nice body, lovely movement, good balance. They are just nice horses."
Debbie Easter, Kentucky-based bloodstock agent: "The one that has impressed me the most is Henny Hughes. Overall, I think they have been pretty nice. They seem to have a little bit of scope and nice rear ends, and they have been pretty and smooth."
Gayle Van Lear, California-based bloodstock agent: "By far and away the Bernardinis have blown me away. They are big, scopy horses with nice walks to them. That is what really catches my eye. The Aragorns have a lot of size and bone to them, and so do the First Samurais. I have always been an Old Trieste fan, so I like the Silver Trains."
Ric Waldman, Kentucky-based bloodstock agent: "I haven't seen that many. I have seen some Bernardinis that I liked a lot, mostly at the farms. I have seen some Rockport Harbors that look like big, strong foals."
Gus Bell, bloodstock agent: "I like the Henny Hughes foals. They seem to be very well received. They are a nice looking bunch. Why wouldn't they go for a bunch? They are well balanced and seem to have a good eye, and they seem to be intelligent."

Copyright © 2015 The Blood-Horse, Inc. All Rights Reserved.