Market Chatter: Uncertainty in November
by Deirdre B. Biles
Date Posted: 11/4/2008 7:32:55 PM
Last Updated: 11/5/2008 11:17:55 AM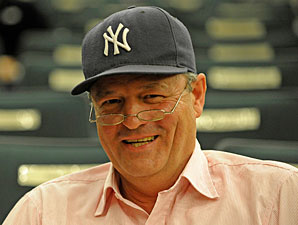 Lincoln Collins, Kern Lillingston Association
Photo: Anne M. Eberhardt
Here's what horsemen had to say Nov. 4 during the second session of the slumping Keeneland November breeding stock sale in Lexington:
Lincoln Collins, Kern Lillingston Association: "It's an extremely uncertain time, and people would rather not invest in anything; they would rather have cash. I think people are very afraid to invest in things that they have no accurate measure of valuing what they're going to have in the future. The big operations that are breeding to race are still looking for the blue chip mares, and some of them are getting good value in what they're buying. A few brave people will probably make a lot of money, but no one knows how long this world financial crisis is going to last. Credit is tight, and people want to sit on cash."
Don Robinson, Winter Quarter Farm: "It's very tough. It's as tricky as I've ever seen it. The market is so narrow. There aren't many people who want to buy a nice horse. They don't want to spend much. A young mare with racing success, they'll buy. But I find the weanlings are really, really tough. It's the economy. They (buyers) are worried about next year. I'm not finding end users for weanlings, and sometimes before there have been."
Mike McMahon, Kentucky-based bloodstock agent: "I've never had more people call me and say they would buy something if it were cheap. This probably will get really ugly in Book 4. Consignors are going to have to decide whether they want to sell or scratch. The outs are pretty considerable. Would you rather go up there and pay commission on selling them in a bad market or just take them home? It's kind of like do you want to lose money on your stocks now or do you just want to hang on and ride it out?"
Dean De Renzo, Hartley/De Renzo Thoroughbreds: "I'm buying babies (weanlings). I think that the market is going to be just fine next year, and I don't really see it being off that much right now, because when you go chase one down that you like, it brings plenty of money. I see plenty of RNAs for a lot of money, so I feel like people still believe in their horses. That will keep the market up."
Tom VanMeter, Eaton Sales: "The mid-level mares from $200,000 to $500,000 are pretty soft. We've gotten four or five back. There aren't as many buyers here for the middle level horses. It's tight and tough. The bloom's off the rose. The market is just kind of doing a little suck down, but we'll live through it."
Greg Goodman, Mt. Brilliant Farm: "The good, solid mares are bringing good, solid money. The mare we bought at Fasig-Tipton (Private Gift, who brought $2.3 million) was the one we wanted out of all of them, but we're still looking. I would like to buy something else. I've tried on a couple here, and they've gone for more money than I've been willing to pay. If you find a good one, you're going to have to fight for it still, just like any other year. The bottom horses aren't going to sell, but for the cream, there is plenty of money and plenty fight left in everybody.

"You worry a little bit about the next couple of years, but we do this because we love it, and we do it for the long-term. We're not doing it just for next year or the year after. We're looking for opportunity and trying to exploit that opportunity. But it's hard when there's a good mare; everybody wants them still."
Brandon Perry, Paragon Farm/Vision Sales: "The upper end mares are still holding their value fairly well. I don't think they are as high as they were last year. The good babies, we're pretty much able to buy what we want to buy, but we've been the underbidders on a couple that we bid a lot of money for. We're happy with what we've bought so far. Overall, I think they brought within (the range of) what we thought they would sell for, nothing crazy."
Headley Bell, Nicoma Bloodstock/Mill Ridge Farm: "There's still solid money for good quality horses, but that $200,000 to $300,000 mare is the one that's affected right now. That's where the market is saying, 'When I breed this mare, who's going to buy that future offspring?' We're dealing with an abundance of supply still in that area. There's an oversupply of horses and fewer buyers.

"Quite a few people are just stopping and taking a look. For instance, my clients are really stopping and taking a look. We've got quite a few (horses). Generally, we buy just to enhance a program, and our programs look pretty solid in this market. So, it's not like we have to do anything. I would say a lot of people are maybe in that same kind of category, standing pat.

"The catalog doesn't feel as deep as it has in years past. I shop based on what's available, and there aren't as many choices for me. I think it (the downturn in business) is a blend of the market, and the catalog, and just the general reservation about where we are (economically) right now."
Beau Lane, Beau Lane Bloodstock: "We're just doing the best we can. We're definitely in a slump, and it's probably going to be that way for a while. There is a time to hold 'em and a time to fold 'em. Right now, if you've got something good, it's a time hold them. I hate to bring a horse in and take what I can get when things aren't right. It's against my religion.

"I had a $15,000 reserve on a Lion Heart colt, and I got $55,000. I was very conservative; I knew he was a better colt than that. And the market held up and gave his value, so something that's good still will bring its value."
Copyright © 2015 The Blood-Horse, Inc. All Rights Reserved.