Stormy Atlantic Stays at $45,000
Date Posted: 10/29/2008 10:30:19 AM
Last Updated: 10/30/2008 5:00:02 PM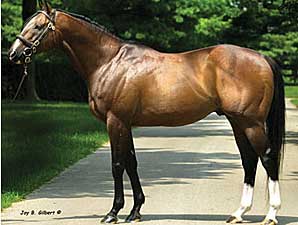 Stormy Atlantic
Photo: Joy Gilbert
John Sikura's Hill 'n' Dale Farms, located near Lexington, has announced that Stormy Atlantic 's 2009 stud fee will remain the same at $45,000.
"Our objective is always to stay true to our philosophy with all of our stallions, which is to provide the best value in the stallion business," Sikura said. "We have set our fees for 2009 with the current economic climate in mind and believe our current roster affords breeders a strong opportunity to be successful. We had a lot of pressure to raise Stormy Atlantic's stud fee with the great year he is having, but decided to remain at $45,000."
Stormy Atlantic ranks ninth on this year's leading sires list.
Following at the fees for all the Hill 'n' Dale stallions.
Candy Ride
$12,500
Closing Argument
$12,500
El Corredor
$25,000
Grand Reward
$8,500
Harlington
$10,000
Heatseeker
$20,000
Midnight Lute
$20,000
Mr. Sekiguchi
$5,000
Mutakddim
$12,500
Roman Ruler
$20,000
Seeking the Best
$6,500
Seeking the Dia
$10,000
Shakespeare
$15,000
Stormy Atlantic
$45,000
Theatrical
$35,000
Copyright © 2015 The Blood-Horse, Inc. All Rights Reserved.