Classic Recap: Pass the Torch
by Steve Haskin
Date Posted: 10/28/2008 11:34:46 AM
Last Updated: 11/3/2008 10:05:54 PM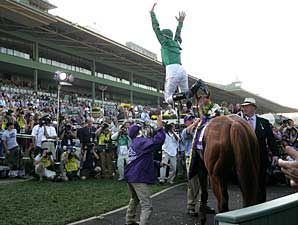 Frankie Dettori's trademark flying dismount after winning the Breeders' Cup Classic aboard Raven's Pass
Photo: Christina House
America once ruled the Breeders' Cup Classic (gr. I). But "quoth the raven, 'Nevermore.' "

With a synthetic surface introduced for the first time this year, leveling the playing field for the Europeans, Raven's Pass, like Edgar Allen Poe's mysterious bird, came tapping at our chamber door…then busted it down.

With one fell swoop, Raven's Pass opened the door to tomorrow, followed closely—1 3⁄4 lengths to be exact—by his arch rival Henrythenavigator. Together they paved the way for a European invasion in next year's Breeders' Cup at Santa Anita that in all probability will be unlike anything ever seen in this country.

It is ironic that the ultimate goal this year for defending Horse of the Year Curlin was to invade Europe's premier race, the Qatar Prix de l'Arc de Triomphe (Fr-I) in a bold attempt to establish himself as a true Horse of the World. Instead, those plans were scrapped, and it was the Europeans who came here and knocked off Curlin on his home turf.

That is, if you want to call it his home turf. While the Pro-Ride surface at Santa Anita produced some of the most explosive performances in Breeders' Cup history, by Zenyatta, Midnight Lute, Stardom Bound, and Ventura, such was not the case with Curlin, who could only finish fourth after making a sweeping move on the turn to take the lead.

"It was a turf race," said Curlin's trainer, Steve Asmussen, who has voiced his displeasure with synthetic surfaces and stated all year that Curlin would not be pointed for the Classic. "It absolutely was the Pro-Ride surface," he added. "He ran his heart out and gave it all he had. He's still a great horse."

Jockey Robby Albarado said Curlin was "paddling around," but added that he couldn't say for sure whether the surface was the reason for his defeat as the 4-5 favorite.

While Curlin's defeat was a crushing blow to American racing fans, credit must be given to Raven's Pass, who, after losing his first three battles with Henrythenavigator, has now beaten Henry twice in a row, carrying their intense rivalry all the way to America at a distance two furlongs farther than either had ever run and over a surface on which neither had ever stepped foot.

Who would have thought that the Europeans would win five of the nine Breeders' Cup races on Oct. 25, the second day of the two-day event, and none of them would come from trainer Aidan O'Brien's powerful Ballydoyle stable, which sent out nine runners over the two days. They came close, finishing second with Henrythenavigator in the Classic, Westphalia in the Juvenile Turf, and Heart Shaped in the Juvenile Fillies Turf. O'Brien and Coolmore had tried eight times to win the Classic, coming close in their first attempt in 2000 when Giant's Causeway was narrowly beaten by Tiznow in a furious stretch battle. Determined to win the race after so many defeats, they didn't even bother to cross-enter Duke of Marmalade and Henrythenavigator in the Emirates Airline Turf (gr. IT) and Mile (gr. IT), respectively, where many Europeans felt they belonged. It was all or nothing.

For Raven's Pass' trainer, John Gosden, the victory was extra special coming in Southern California, where he spent 11 years before returning to his native England.

"It doesn't get any better than this," Gosden said after the race. "All our great friends are here, from the guys that are raking up in the shed areas to the owners, trainers, and jockeys. If you think it's going to get better than that, you're really a greedy so-and-so. To me, this is a dream come true and a day I'll cherish the rest of my life."

Gosden apologized to his wife, Rachel, for being "impossible to live with the last month or so. I've been like a coiled spring for this visit here. I knew I had the horse that could do the job. But she's put up with a very irritable, grumpy husband."

Rachel added, "It's so thrilling for John to return to California with such a lovely horse. Our friends here and the racetrackers are like family to John. It couldn't be more special, and I'm very proud of him. He won't be grumpy after this, I can assure you."

Sharing in the victory with Gosden was John Ferguson, bloodstock manager for Sheikh Mohammed. The latter's wife, Princess Haya, along with Darley Stable, owns Raven's Pass.

"This is an absolute highlight because I worked for John Gosden 25 years ago in California," Ferguson said. "I had been working for Michael Stoute in Europe, and he got fed up with me and sent me to John for experience. I spent one winter with him as a hot walker and pony boy, and never in my wildest dreams did I ever think I'd be sharing something like this with John."

Then there was jockey Frankie Dettori, who picked up the mount on Raven's Pass when the colt's regular jockey, Jimmy Fortune, was slapped with a 10-day suspension that ended on Classic day. Fortune felt he wouldn't be sharp enough to be at his best in such an important race.
"I would hate to have been the cause of the horse getting beaten," he was quoted as saying.

Gosden said he discussed the situation with Fortune and commended him for his decision. "He would have had to come straight here; he's never ridden in the Breeders' Cup; he's never ridden here," said Gosden. "He said there's no way he can be as sharp as one should be for a job like this. I call that a noble and highly intelligent gesture. It shows what a great guy he is. He said he'd watch on (television), and if Dettori screws up, he'll hear about it."

So, 10 years after his disastrous ride aboard Swain in the 1998 Classic, after which he was severely vilified for a whipping blunder that likely cost the horse the race, Dettori finally attained glory in America's richest race.

When he crossed the finish line, he flung his whip high in the air, as if releasing the demons that had been bottled up for a decade. Finally, he was rid of the Swain debacle. Returning through the tunnel, he performed a variety of leaps for the fans, while unleashing a flurry of punches into the air.

"I told you'd I'd be back," he said to anyone who would listen. "It's all fate. I knew this morning this was going to happen. I told my wife that perhaps it's a bit of fate that it was 10 years ago I got beat with Swain, and that didn't go down very well. And I got so close with Sakhee (beaten a nose by Tiznow in the 2001 Classic). Now, I had a third chance, and I didn't want to let it slip away. When I could feel he was still galloping strong in the last furlong, a million emotions went through my head. When I crossed the line I didn't really know if it was true or a dream."

The Classic marked the fifth meeting this year between Raven's Pass and Henrythenavigator. Here were the leading two male milers in Europe both passing up the Breeders' Cup Mile (gr. IT) to journey into the unknown to continue their rivalry.

In their first clash, the Stanjamesuk.com Two Thousand Guineas (Eng-I), Raven's Pass was 4-1 coming off a nose defeat in the group III Banshahousestables.com Craven Stakes, while Henry, at 11-1, was making his 3-year-old debut. Henry turned in a gutsy effort to beat eventual Vodafone Epsom Derby (Eng-I) winner New Approach by a nose, with Raven's Pass, drawn very wide, running evenly to finish fourth, beaten 4 1⁄2 lengths. They would never be that far apart again.

After beating New Approach again in the Boylesports Irish Two Thousand Guineas (Ire-I), Henry hooked up with Raven's Pass June 17 in the St. James's Palace Stakes (Eng-I) at Royal Ascot. Henry got first run and was able to hold off Raven's Pass' late charge to win by three-quarters of a length. Their next meeting came July 30 in the BGC Sussex Stakes (Eng-I) at Glorious Goodwood. Once again, Henry got first run and was fully extended to turn back Raven's Pass by a head.

Raven's Pass took a much-needed break from Henry and won the Totesport Celebration Mile (Eng-II) at Goodwood by one length. It was then time to seek out Henry again. The headline in the Racing Post the day after the race read: "Revenge Mission Ahead for Raven's Pass."

The revenge came in the Sept. 27 Queen Elizabeth II Stakes (Eng-I) at Ascot, and this time it was Raven's Pass who got first run on Henry, charging to the lead with two furlongs to go and having enough left to withstand his nemesis' big closing kick. Henry pulled up to Raven's Pass' saddlecloth, but the English colt was too strong for him in the final furlong, easing away to win by a length.

It was in the Queen Elizabeth that Raven's Pass raced for the first time in the silks of Princess Haya. The son of Elusive Quality—Ascutney, by Lord At War, was bred by Robert and Janice McNair's Stonerside Stable, in whose silks he had raced. But when Sheikh Mohammed, who had purchased 50% of the colt after his romp in the Solario Stakes (Eng-III) last year, bought all of Stonerside's property and horses in early September, he took over full ownership of Raven's Pass and raced him in his wife's silks.

"I bought his mother years ago," said John Adger, manager of Stonerside. "We loved that family. John Gosden and I have been friends for 30 years, and I have the utmost respect for him. Raven's Pass was a very good-looking yearling, and John loved him, and so did our farm manager, Bobby Spaulding. So, we thought it would be a good plan to send him to John in England. The first time we entered him he was so anxious he broke through the gate, and the rules in England are that if you break through the gate you're automatically scratched. He had to go back and get schooled and then won his first three starts.

"After the Solario Stakes, John Ferguson called me and said Sheikh Mohammed wanted to buy the horse for his wife, Princess Haya. At first, the McNairs didn't want to sell any of him, but I told them it might be wise to sell half interest. We came up with a price, and they agreed to pay it. It was quite a bit of money. The agreement was that he'd race in Stonerside's colors. Then we made the deal this year to sell Stonerside to Sheikh Mohammed, and Raven's Pass was turned over to him."

This year's Classic was unlike any other in that it was being run on a synthetic surface, attracting three of Europe's leading contenders for Horse of the Year, as well as the undefeated Japanese colt Casino Drive. Henrythenavigator and Duke of Marmalade had combined to win nine group I stakes this year alone.

But most of the talk was about Curlin, who had recently become the first North American-based horse to surpass $10 million in earnings.
Following the colt's repeat victory in the Jockey Club Gold Cup (gr. I), majority owner Jess Jackson, who had been adamant that he would not use Curlin as a guinea pig on a synthetic surface, made an about face and decided to send his colt to Santa Anita for the Classic.

The thought of a Curlin—Big Brown showdown for Horse of the Year honors sent a wave of electricity throughout the racing world. But soon after, Big Brown, the Kentucky Derby Presented by Yum! Brands and Preakness (both gr. I) winner, suffered a foot injury while working on the grass and was immediately retired.

Curlin arrived at Santa Anita one day after his Gold Cup victory and seemed to take a liking to the surface, as evidenced by his Oct. 13 five-furlong breeze in :59 between races. But Asmussen remained cautious. "Who knows?" he said outside his barn the morning of the race. "I have not bound my feet on synthetic. But I haven't given up."

Raven's Pass had shipped to Santa Anita the Monday before the Breeders' Cup and was out for a light canter the morning of Oct. 22, accompanied by a pony for the first time in his life. He then went for his first schooling session in the paddock. Gosden stood in the saddling stall, patting the colt on the neck, and liked what he saw. "That's perfect," he said. "He's never been with a pony before, so he's enjoying that, aren't you, boy?

"That's really good," Gosden said to assistant Danny Harrap and head traveling lad Les Reynolds. "We'll go around (the paddock) and we'll head home, guys."

"All we're doing today is to have a look at the track and see how he handled the pony, and he's done both very well, so we're happy," Gosden added. "We'll just gallop up to the race. It's a mistake to come here and try to do too much."

Gosden explained his decision to go for the Classic instead of the Mile. "That's a stiff mile at Ascot. You climb and climb and climb. So, I know he'll get a mile and an eighth. I just don't know about that last eighth of a mile. The only way to find out is to do it. You can't rehearse that kind of thing at home. If the Classic had been on dirt we would have gone in the Mile. But this makes it more of a level playing field, so you've got to be bold. If the last eighth of a mile proves too far, that's life. At least we're brave and tried.

"He's out of a solid Elmendorf family through Verbatim, and I had a real good old horse named Alphabatim by him. It makes it more exciting to go in the Classic. You run in the Mile and it's a bit like you're hiding. To have the two best male milers in Europe in the Classic makes for a great race. Curlin sets the benchmark; he's the template. But when you have a European horse who has the ability to travel, travel, and travel in a race at a high cruising speed and then have that burst of acceleration, any good horse is vulnerable to that."

The following morning, Gosden gave Dettori a leg up on Raven's Pass to see how the colt handled the surface in his first gallop. He told him, "Once around the track, put him in a backtrack, and then go through the tunnel into the paddock." There was just enough light to see, and when Raven's Pass came by, reaching out with smooth, effortless strides, Gosden was all smiles.

"I'm very pleased with his action," he said. "There's enough light to let him see the place, but it's lovely and cool right now. They've got to race in the heat; they don't have to train in it."

When Gosden asked Dettori if he was happy with the horse, commenting that he thought he moved really well, the rider replied, "I'm still on so far," alluding to Raven's Pass' fiery nature, which has diminished with maturity.

The Classic drew a field of 12, with Curlin the strong 9-10 choice, synthetic surface lover Go Between at 8-1, and Duke of Marmalade and Casino Drive 9-1. Raven's Pass, second choice on the morning line at 6-1, was sent off at a generous 13-1.

As Gosden was saddling Raven's Pass, the colt began to buck and lunge, prompting Gosden to kiddingly tell Dettori, "Be careful or you might get thrown off."

It was expected that Fairbanks would go to the lead in a seemingly paceless race, but it was Casino Drive, coming off a victory at Santa Anita in allowance company, who went to the front, setting fractions of :23.77 and :47.60. Fairbanks was content to sit back in second, tracking him, followed by Duke of Marmalade and Go Between. Curlin was back in eighth, just behind Henrythenavigator and just in front of Raven's Pass.

In all three of Henrythenavigator's victories over Raven's Pass, the Ballydoyle colt got first run and Raven's Pass was unable to run him down. In the Queen Elizabeth Stakes, the strategy was reversed, as was the outcome. As Gosden said before the Classic, "It's important not to let Henry get first run, especially in a slowly run race."

Around the far turn, Go Between, who was pulling jockey Garrett Gomez, had to steady on the inside when Casino Drive and Fairbanks began backing up, and he lost his position, dropping out of contention. Duke of Marmalade was the first to stick his head in front, but his narrow advantage would be brief.

When Curlin began to unleash a five-wide move that carried him to the lead in a quarter of a mile, Dettori followed him. Henrythenavigator had been racing just off the rail under John Velazquez, and he was able to move out to launch his bid, but Raven's Pass again had gotten first run on him. As Curlin made his sweeping move, taking over the lead from Duke of Marmalade, the crowd let out a deafening roar, but it soon became apparent that Raven's Pass was moving the better of the two. Henrythenavigator, hemmed in by Raven's Pass, had to split horses and came charging up inside of Curlin, as the two European rivals swept by the champ. But by the time Henry got in full gear, Raven's Pass was gone.

With neither of the two having ever passed the other in the stretch, it came as no surprise that Henry was unable to close the gap on Raven's Pass, who flew home his final quarter in about :23 3⁄5 under right-handed urging from Dettori to win going away by 1 3⁄4 lengths, covering the 10 furlongs in a swift 1:59.27. Tiago came flying late to nip Curlin by a neck for third, finishing three-quarters of a length behind Henrythenavigator.

"I had a perfect trip," Velazquez said. "Because of the distance—his first try this far—they wanted me to wait until the three-eighths pole before I moved. When I did, he went. I wish I could have made that move earlier. I think it might have made a difference. There's no doubt he stayed today."

O'Brien added, "After a long, hard season, we're delighted with his run."

Tiago's third-place finish capped off a big weekend for trainer John Shirreffs and owners Jerry and Ann Moss, who saw their super filly Zenyatta win the Ladies' Classic (gr. I) in magnificent style the previous day. "Zenyatta staying unbeaten and winning the Ladies' Classic and Tiago running a strong third in the Classic, that's almost as good a weekend as it gets," Shirreffs said.

The decision to run Raven's Pass in the Classic proved to be an inspired one, especially after the spectacular performance by the French 3-year-old filly Goldikova in the Mile.

"I would have had trouble with her," Gosden said. "Did that filly run or what? How good is Zarkava (the Arc winner who defeated Goldikova in the group I French Oaks and French One Thousand Guineas)? She's a Ruffian, one of those great freaks."

Later in the evening, as the crowd at Santa Anita began to file out, Harrap and Reynolds led Raven's Pass from the test barn back to the quarantine barn as the setting sun illuminated the colt's chestnut coat.

"You know you're special, don't you?" Reynolds said to the colt, while patting him on the neck. "You're a superstar."

"He's come a long way, physically and mentally," Harrap said. "He just wants to get on with it. He can still get hot and sweaty, but there's a lot of energy in there. He's gotten better and better. He's now beaten Henry twice in a row, and they're 3-2."

As Gosden was leaving after checking on Raven's Pass, he ran into Coolmore's Demi O'Byrne, who congratulated him on the victory.

"They're two tough horses, aren't they?" Gosden said to O'Byrne. "They run hard together; they're both made of iron. It's been some rivalry."

"I think it's a great day for racing," O'Byrne said. "We go back a long time. Anyway, I'm thrilled for you. Well done; well done."

So ends a Breeders' Cup Classic that could prove to be the most profound in the race's 25-year history. Not only did Raven's Pass and Henrythenavigator run an unprecedented one-two in the Classic, the English-trained and Irish-bred Muhannak captured the inaugural Breeders' Cup Marathon.

With synthetic surfaces having bridged the wide chasm between America and Europe in the Breeders' Cup dirt races, it would be wise to heed Gosden's warning:

"Now you'll never get rid of us."

Copyright © 2015 The Blood-Horse, Inc. All Rights Reserved.