Aidan's Army Ready for Battle
by Esther Marr
Date Posted: 10/22/2008 6:01:28 PM
Last Updated: 10/24/2008 3:57:40 PM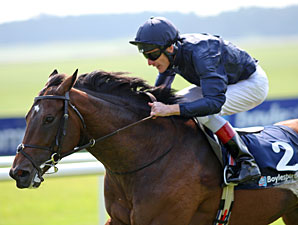 Henrythenavigator is one of eight Breeders' Cup contenders for trainer Aidan O'Brien.
Photo: Trevor Jones
Two days prior to the Breeders' Cup World Championships Santa Anita Park, Irish trainer Aidan O'Brien's contingent of horses paraded around the main track to stretch their legs and take in the Southern California scenery.
O'Brien was on hand after the brief exercise to discuss the chances of his eight contenders, who were followed by a throng of media as they pranced off the track and headed back to the quarantine barn.
Under a serene blue sky against a backdrop of skinny palm trees and taupe-colored mountains, the horses walked and trotted with a sense of purpose, as if each of them knew their approaching tasks at hand.
"It's quite warm here, but it's beautiful, isn't it?" said O'Brien once back at the quarantine barn with his horses, all of which are owned by Coolmore and its associates. "Obviously, (the horses) all had long, hard seasons, but they seem to be handling (the trip) fine. They'll canter tomorrow and the next day on the track."
O'Brien said Santa Anita's Pro-Ride surface was similar to one of the training tracks in Ireland, so his horses are already used to the consistency of the track.
When asked if the tragic breakdown of George Washington in last year's Breeders' Cup Classic (gr. I) in the slop at Monmouth Park had initially discouraged him from bringing horses to this year's event, O'Brien said, "That was just a bad day. Everything went wrong, and it was just a disaster. But those things happen, and it was just one of those days that you just want to forget. We don't like to look back; we look forward. Obviously, this is a beautiful place, a beautiful track, and we have great weather."
The following are some of O'Brien's thoughts on each of his Breeders' Cup contenders heading into their respective events Oct. 24-25:
Henrythenavigator, Breeders' Cup Classic (gr. I)
"He's got loads of speed, and Henry is one of those horses that likes to get up on his toes when he gallops. When horses are like that, they're very nimble and very quick, so we're hoping he will be able to do that. Obviously he's better on a fast, level surface. When you watch him race in Europe on slow ground, he's much more sluggish. He's never been past a mile before, so we just have to trust."
Duke of Marmalade, Breeders' Cup Classic (gr. I)
"He's another horse that likes fast ground; he's very tough and a good cruiser. If he gets a good break and he's able to get a good position, I think he'll be tough. He's got a great constitution and a great physique."
On Duke's seventh-place effort in the Qatar Prix de l'Arc de Triomphe (Fr-I):
"For a horse like Duke, we were kind of preparing him for a run on the dirt or the Polytrack as a prep for the Classic rather than preparing him for the Arc as if the Arc was the end of the road. His Arc run was a grand run, but he was kind of having that run in between on the way to here."
Heart Shaped, Grey Goose Breeders' Cup Juvenile Fillies Turf
"Sometimes a horse with that kind of speed, you try and get them to slow down (breaking from the gate), so we're trying to slow her down a little bit. In an ideal world, we'd prefer for her to break a little bit behind. We're not sure whether she'll get a mile…(jockey) Johnny (Murtagh) will be patient with her and see what happens."
Soldier of Fortune, Emirates Airline Breeders' Cup Turf (gr. I)
"He's in good form, and he had a nice summer break. He gets a mile and a half well, and he's a very good moving horse under fast and soft ground. He's fresh, and we've been very happy with him."

Red Rock Canyon, Emirates Airline Breeders' Cup Turf (gr. I)
"He's there just to make sure it's a consistent, even race. He's a good horse in his own right. He's one of those horses that's a natural leader. He usually breaks quick and pulls to the front. I think (having a pacesetter) is good for everybody — makes it more even."
Halfway to Heaven, Emirates Airline Breeders' Cup Filly & Mare Turf (gr. I)
"She's a very tough, hardy, and consistent filly, but she's had three great rides to win those group I races. Each time she won, you'd say the jockey (Murtagh and Seamus Heffernan) was great on her. But she's very tough, very consistent, and has class."
U S Ranger , Breeders' Cup Mile (gr. I)
"We tried to sprint him (in the Ladbrokes Sprint Cup at Doncaster (Eng-I)), but he was beaten because I think we forced him too much (he finished 11th). He's in good form, so we'll see what happens. It's his first step up (to a mile), so it will be interesting."
Westphalia, Grey Goose Breeders' Cup Juvenile Turf
"We think he'll get a mile. He's in good shape. He's a classy horse at home. He won the [Keepmoat] Champagne Stakes (Eng-II), which is a good race."

Copyright © 2015 The Blood-Horse, Inc. All Rights Reserved.