Curlin En Route to California
by Tracy Gantz
Date Posted: 9/28/2008 1:47:21 PM
Last Updated: 9/30/2008 10:15:31 AM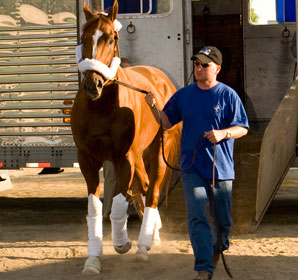 Curlin is on his toes as he steps off the van Sept. 28 at Santa Anita Park.
Photo: Benoit
-additional reporting by Steve Haskin
It didn't take majority owner Jess Jackson and trainer Steve Asmussen long to make plans for Curlin , winner of the Sept. 27 Jockey Club Gold Cup Invitational (gr. I) at Belmont Park. The colt departed Belmont Park Sunday morning and is on way to Santa Anita and a possible confrontation with Big Brown in the Oct. 25 Breeders' Cup Classic (gr. I).

"He is scheduled to arrive early this afternoon," said Michael J. Harlow, Santa Anita's director of racing, the morning of Sept. 28.

Following the Gold Cup, Jackson said. "First we'll have to get him adjusted. But it is up to him whether he likes the track and the surface. So, those are concerns we still have. But we'll consider it now that we're past this hurdle. That's the next prospect for us and we'll give it every bit of attention. I am being very cautious and doing my due diligence first."
Asmussen, speaking by phone emphasized that they are not committing Curlin to the BC Classic at this point.

"He came out of the (Gold Cup) great. What we decide will only matter according to how he is on that race track. We're going to California to work him, and nothing past that," he said.

In winning the Gold Cup, Curlin bypassed Cigar to become the richest North American-based Thoroughbred in history with earnings of $10,246,800.
Dual Classic winner Big Brown already has been committed to the Breeders' Cup and is due in California several days prior to the race.

"Big Brown is doing good," trainer Rick Dutrow said by phone from New York. "I was happy to see what I saw yesterday with Curlin, and I can't wait to get out there and put him (Big Brown) in the gate."

Asked how he felt as a "fan" to possibly see a race between Curlin and Big Brown, Dutrow said, "Oh, we're excited as we can be."

Ditto for Sherwood Chillingworth, Oak Tree's executive vice president. Oak Tree will be hosting the Oct. 24-25 Breeders' Cup, which features 14 races with total purses of $25.5 million.

"I think the American public is focused on those two horses running against each other," Chillingworth said. "This would bring much-needed attention back to racing."

Copyright © 2015 The Blood-Horse, Inc. All Rights Reserved.