Campbell to Resume Riding Sept. 18
Date Posted: 9/14/2008 6:34:19 PM
Last Updated: 9/15/2008 1:16:21 PM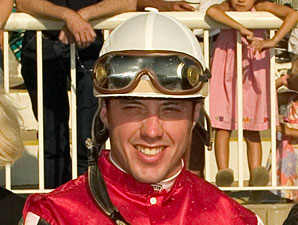 Jesse Campbell plans to return September 18.
Photo: Benoit

(from Arlington Park notes)
Jockey Jesse Campbell, expected to miss the remainder of the Arlington Park meeting after sustaining a shoulder injury in a fall Sept. 6, plans to return to action with three mounts on the Thursday, Sept. 18 program at the Northwest Chicago track.

Campbell, 30, is currently second in the local standings behind defending champion Rene Douglas. The native of nearby Lake Zurich, has 68 wins at the session, with 51 seconds, and 78 thirds from 464 mounts.

"I'm going to try and ride Thursday and see how I feel," said Campbell Sept. 14. "I'd like to try and ride three Thursday and two or three Friday, and maybe more Saturday because it's a stakes day."

Campbell's injuries were originally expected to keep him out of action for a couple of weeks, but he said he has responded well to the daily physical therapy he has undergone for the last week.

"I've got a very small tear in my rotator cuff and a tiny hairline fracture in my collarbone," Campbell said. "I'm still pretty sore, but the soreness is getting a little better every day so by Thursday I expect to be in pretty good shape. Also, the doctor told me I couldn't hurt anything any further by riding unless I fell right on that same shoulder again."

Campbell is to be married to Arlington event manager Allyson Morrissey on Sept. 28.

"I might as well go ahead and ride," he said. "It's only a couple of more weeks before I go on my honeymoon , and then I won't ride again until Fair Grounds anyway."



Copyright © 2015 The Blood-Horse, Inc. All Rights Reserved.