Highland Farm on the Market; Hofmeister in Dispute With Classic
by Kristin Ingwell Goode
Date Posted: 6/21/2001 3:43:31 PM
Last Updated: 6/27/2001 1:56:52 PM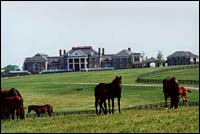 Horses graze at Highland Farm.


Four years after buying and building Highland Farm, near Paris, Ky., George and Kay Hofmeister have listed the Bourbon County estate for sale for $60 million. "We're going to scale way back, but we're not going to leave the industry," Hofmeister said Thursday.After entering the Thoroughbred business in 1997, Hofmeister quickly put together a broodmare band about 50 strong within a year. He also bought a majority interest in the Vinery stallion operation, near Midway, Ky., and a farm in Australia. That became and remains Vinery Australia. The former Blue Blood Farm in Utah became part of the operation as Vinery West. In 1999 Vinery Kentucky and Australia were sold to Tom Simon, and Blue Blood farm reverted to its original name. Hofmeister said he currently owns about 120 broodmares, most of which are kept in Kentucky. When asked if a dispersal is in the future, Hofmeister said "I'm studying different issues." However, a representative of Hoffman International Properties, which is listing the farm, said a $9 million inventory of horses is included in the sale. Hofmeister said the decision to put the Paris property, which includes a 35,000 square foot custom home, was made because he and his wife "decided we were going to move back into Lexington." Hofmeister said the daily activities of their three children were simply taking their toll. Hofmeister's farm manager, Peter Kirwan, has entered a lien against 52 horses in the care of Highland, that, according to documents filed in Bourbon County, belong to New Classic Breeders, LLC. The lien claims Highland is owed $175,620 in back board payments by New Classic Breeders. At one time Hofmeister was involved in a partnership Classic Breeders LLC, of which S. David Plummer of Utah was president. Hofmeister would not list the principals in New Classic Breeders, except to say it is a group of people from Utah. Fifty of the 52 horses in question are listed as bred by Highland, but Hofmeister said that was part of the lease agreement with New Classic. A number of the 2001 foals from those mares are listed as bred by Plummer.



Copyright © 2015 The Blood-Horse, Inc. All Rights Reserved.