Half-Sister to Big Brown Fails to Sell
by Leslie Deckard
Date Posted: 9/9/2008 5:21:16 PM
Last Updated: 9/10/2008 11:13:49 AM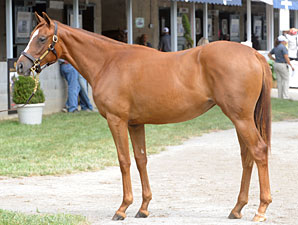 Hip 484, filly; Touch Gold - Mien by Nureyev, half-sister to Big Brown, failed to meet her reserve during the Keeneland September yearling sale Sept. 9.
Photo: Joe DiOrio
A half-sister to dual Classic winner Big Brown failed to meet her reserve when bidding stopped at $200,000 during the second session of the Keeneland September yearling sale Sept. 9.
The chestnut Touch Gold filly, produced from the Nureyev mare Mien, was consigned by Dr. Gary Knapp's Monticule.
Knapp said he plans to break the filly and race her. "The information we have is that she is not going to be early, she will probably start get exceptionally good mid-year in her 3-year-old year," he said. "We don't expect her to be an extraordinary 2-year-old so we plan to go quite slow with her. We are happy to have her."
Asked if he was disappointed that she did not sell or if he was happy to have the opportunity to race her, Knapp said, "Ms. Market is always right."

Copyright © 2015 The Blood-Horse, Inc. All Rights Reserved.