Keeneland September: Let the Show Begin
Updated: Monday, September 8, 2008 7:58 PM
Posted: Sunday, September 7, 2008 8:50 PM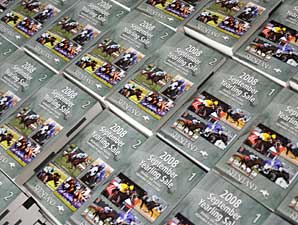 Photo: Joseph DiOrio
5,555 horses are cataloged for the Keeneland September Yearling Sale.
Some people call the Keeneland September yearling sale a marathon because of its length: 15 sessions this year. Others have nicknamed it Wal-Mart because of the large number of horses cataloged, which has risen to a record of 5,555. To Geoffrey Russell, Keeneland's director of sales, it's more like a Broadway show.
"The horses, which are the actors, are here; the buyers, who are the audience, are here," he said. "Now, all we have to do is turn the lights on."
The first two sessions (Sept. 8 and 9) are for select horses, the ones with the best pedigrees and the most perfect conformation. The leaders of the two most powerful buying forces, to the relief of consignors, have arrived in Lexington. Sheikh Mohammed flew in Sept. 6, and Coolmore Stud's John Magnier was seen inspecting horses at Keeneland the same day.
"If you want to be pessimistic, you can look at so many things going on in our country right now with the economy," said Brereton Jones of Airdrie Stud. "You've also got two people running for president, and you could make a case for both of them or you could make a case against both of them them. There is uncertainty, and that is never good for a market. But I would anticipate that this sale will be more of what we've been seeing. There will be some horses that will sell very well, and there will be some that will be sent home that will be perfectly good horses."
While Greg Goodman of Mt. Brilliant Farm has reduced his expectations for the September sale, he still has been impressed by the amount of buyer interest in the horses.
"Based on the customers who have come by that I've talked to, I'm sure everyone is expecting to pay a little less, and I'm sure the sale will be off a little bit," he said. "But we've had great people looking at our horses. For the select part of the sale, it's not like we're missing any of the usual suspects. While their budgets may be less, they're here, and they're looking. There's not just a bunch of tire kickers hanging around."
Following are comments from other people about the September sale and the Thoroughbred marketplace in general:
Nick Nicholson, Keeneland president and chief executive officer: "It's going to be as good as it can be. What I mean is that every buyer in the world who wants a yearling is either here or is represented here, so from a seller's standpoint, this is going to be as strong as a yearling market can be. If you walk around here all day, you can hear anything you want to, so rather than deluding ourselves, we're concentrating on doing our part of the job by having the facilities ready and the staff ready. We hope the horses will get to the ring safely, and then the market will do what it's going to."

John Stuart, Bluegrass Thoroughbred Services: "The first couple of books (of the catalog) will be pretty good because I think the Maktoums are going to buy a lot of horses. I just sense they're going to be really active. Once we get past Book 5, it'll be probably harder; there will more RNAs. Maybe the average will stay up, but the number of horses sold probably won't."
Michael Hernon, Gainesway: "The Europeans buyers will be here. They still have a very significant currency advantage, and I think Keeneland has to be commended on the job it's done in the last few years in soliciting overseas buyers who support the sale as we get on into the higher numbers. We obviously have to be cognizant of the current economic climate. We're all aware of certain weaknesses out there. I think buyers will be discerning, but I don't think people are going to stop buying horses cold turkey. But broadly speaking, we will be selling into a softer market."
Tom Van Meter, Eaton Sales: "I don't know whether the sale will be up or down, but just look here in our courtyard (Sept. 6); we're swamped, and we had a good day showing yesterday. Everybody is here to buy horses, so I think it's going to be just fine. There may be a little correction average-wise, but it's going to be plenty strong."
Dell Hancock, Claiborne Farm: "You always wade into things like this and see how it goes. But Seth (Hancock) and I sat down and talked about the Claiborne horses, and he said, 'I don't think you can get too bullish on them.' I always think about what Mr. (Robert) Courtney said: 'You come up here with horses, and you go home with money.' That's the object of the game. You can't get greedy; you just hope that you do fine. I don't have a great feeling of exuberance about this sale."
Case Clay, Three Chimneys Farm: "Monday and Tuesday (Sept. 8 and 9) should hopefully be solid, and after that, it's a big question mark. Last year, I thought it was going to fall off after Book 4, and the sale proved me wrong, so hopefully my reservations will be proved wrong again."
Brian Meehan, English trainer: "The economy will have an effect, for sure. But if you like a colt or a filly, you usually find that everybody else wants it as well."
Craig Bandoroff, Denali Stud: "The showing level has been good so far, and traffic has been fine so far. I had a great sale at Saratoga, but I didn't have just nice horses, I had very nice horses. The concerning part is that it takes very good horses, and it's hard to have very good horses. I think the buyers have raised the bar. I have an expression: Good isn't good enough. You've got to be better than good. I think you'll see a high RNA rate because the horses that aren't good enough, there isn't going to be anybody there for them.."
Duncan Taylor, Taylor Made Sales Agency: "I think it's a great book of horses. There are a lot of really good yearlings, and there's probably an opportunity for somebody to make some good buys. Overall, with the economy and the stock market down some, you would think the market would go down. It wouldn't surprise me if it went down 20% or so, but we're staying optimistic because we've got good horses. But you've also got to be realistic."
John Sikura, Hill 'n' Dale Sales Agency: "It's the benchmark sale, and it's unique in terms of size, quality, and the breadth of its market appeal. This will really be the indicator of the health of the yearling market, and I think all signs are as positive as they can be. For anybody that's serious about buying a horse, you've got to be at this sale; there are a lot of really good horses. I've seen all the important domestic and international buyers here, so I'm sure they're going to find horses that they like. Will they like everybody's horses? No. But there's going to be plenty of interest and plenty of money if they determine that they want to buy.
"There is always question when you have an economic downturn. It probably will affect some segments of the market. But the first couple of books of the sale are really dominated by people who can afford to buy as many horses as they want. The uncertainty is later in the sale, with Books 4, 5, and 6. How will they be affected? To some degree they're probably going to be affected."
Mark Toothaker, Legacy Bloodstock: "I look for the first week to be good and strong. We've seen a lot of people here; everybody's here you would expect to be. The horses have strong pedigrees and are good individuals, I don't think that there's going to much drop-off. In fact, I think it's going to be as strong as ever. The good ones are going to cost a lot of money.
"The second week, I think we'll start seeing it go back to what we saw back at these earlier yearling sales. They're going to buy the best and leave the rest. The ones that are making people's short list are going to bring more money than they should, and the ones that aren't making the lists are just going to be dead in the water."
Ron Blake, Blake Agency: The week will be good and strong. With the euro versus the dollar, there should be a lot of European money. When you bring all the foreign money together with the top end Americans, who really aren't going to be short on cash, the first week should be fine. After the first week, I think we could be left scrambling."
Meg Levy, Bluewater Sales: "I'm cautiously optimistic. I think it's going to be more of the same, but hopefully the right horses are going to find the right homes. I think it's been a little bit light out here (based on the number of lookers), but it's not the quantity of the buyers, it's the quality of the buyers that we're looking for."
Ben Walden, Gracefield: "It's a little unnerving to see things as quiet as they are (Sept. 6). It's warmed up in the last few minutes, but it's been pretty darn quiet, at least that's my read on it. I was talking to my brother Elliott, and he said he thought it seemed kind of quiet, too. I don't know what to think."
Bayne Welker, Mill Ridge Sales: "I don't you can go in here thinking it's going to be any better than what all of these previous sales have shown us. There is nothing happening in the world right now that I see that should make us any more optimistic. I think the market will be solid in Books 2, 3, and 4, and the good horses in Book 1 will sell very well. You have to be realistic with your reserves if you're going up there to sell, even in the first book. You have to evaluate each individual horse, evaluate your veterinary issues, and know the people who are interested."
Dr. Gary Knapp, Monticule: "If you're in the business of selling horses, you come over here and you deal with the market, whatever the market hands you. Sometimes you come over here and the market is really strong, and sometimes you come over here and maybe the market is not so strong. But whatever the case is, if you're doing this, you come over here and sell. I've seen that some of the markets have struggled, and we'll just have to see whether this one struggles or not."
Chris Brothers, Hidden Brook: "We've been pretty steady as far as people looking, and we've had a couple of second shows already (Sept. 6). We've definitely seen a lot of European buyers."
Gayle Van Leer, California bloodstock agent: "I think there are some nice horses here. The barns don't seem as crowded to me as they've been in the past; I've been able to whiz through. I can't imagine this sale is going to take as big a hit as the other sales because I think Keeneland does a good job of recruiting the foreign buyers."
Dan Kenny, Four Star Sales: "We Americans are very ingenious. If something doesn't work, we try something else. I think what is going to sustain the market is partnerships. There's an awful lot of partnership money out there right now. We don't have the tycoons anymore."
Kitty Taylor, Warrendale Sales: "All the right people are here. I've seen a ton of Europeans. All the guys who buy in the first two books are here. I've put the European-type fillies up here (in the first book) and they're getting looked at their fair share. I feel cautiously optimistic. I've seen people shopping in this book that I have not seen before because they realize there are bargains to be had with more pedigree."
Will Farish, Lane's End: "From what we've seen so far, I think it's going to be a very good sale. The reception (of the horses) has been terrific, and I think that is generally universal. There are a lot of foreign buyers here, and there are a lot of American buyers here. Even though we are in a recession, there are a lot of people who are doing well at the same time. I think it's going to be OK."
FREE! E-Newsletters from The Blood-Horse!...
Follow the top stories of major racing events, racing previews and results with FREE e-newsletters from bloodhorse.com. As news develops, we'll deliver updates to your inbox. Follow important events moment by moment, step by step!