Aid For Breeders, Owners Discussed on Capitol Hill
by Blood-Horse Staff
Date Posted: 6/21/2001 10:28:50 AM
Last Updated: 7/11/2001 8:34:04 AM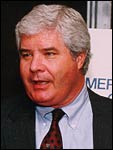 American Horse Council president Jay Hickey.


Financial assistance for owners and breeders impacted by mare reproductive loss syndrome was offered for consideration Thursday morning as part of broad farm-related legislation to be considered by the House Agriculture Committee in July.Kentucky Congressman Ernie Fletcher has proposed that the government offer low-interest loans to those who lost 30% of their foal crop, and can prove they suffered "serious economic injury." Fletcher, along with Kentucky Sens. Jim Bunning and Mitch McConnell, are checking to see if any federal programs can offer assistance to those hurt by the foal-loss situation."This is the first step in what may be a long, but important, process," American Horse Council president Jay Hickey said. "Horses have never been eligible for agricultural emergecy relief, so we will have to overcome various problems, including 'institutional inertia' to make breeders eligible for such assistance."Hickey said the industry would have preferred to have the financial aid included in an agriculture emergency bill discussed Thursday, but the Agriculture Committee believed it best to consider it for subsequent legislation.



Copyright © 2015 The Blood-Horse, Inc. All Rights Reserved.