Ellis Handle Drops, But Geary 'Content'
by Ryan Conley
Date Posted: 9/4/2008 4:56:38 PM
Last Updated: 9/7/2008 11:31:05 AM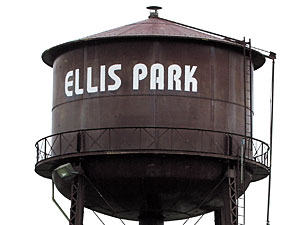 Photo: Anne M. Eberhardt

Ellis Park ended its annual racing meet Sept. 1 with a 3% drop in daily handle despite broader signal distribution to advance deposit wagering outlets.

Daily average wagering hit $2,002,042 during the 39-day meet, down from the $2,066,316 average during the 46-day 2007 meet, according to a release from the track. Ellis Park's 2007 meet was augmented by about $4.9 million in handle from the running of the Claiming Crown, which returned to Canterbury Park this year.

Ellis Park missed its traditional July 4 opening week when owner Ron Geary threatened to close the track over disagreements in revenue sharing of ADW wagers with horsemen, but opened his facility a week later after announcing a consensus had been reached.

Horsemen agreed to a larger 6% slice of ADW revenues, and also granted consent for the Ellis Park signal to go to a broad swath of Internet and telephone bettors, including customers of TVG, Youbet.com, Twinspires.com, and XpressBet, among others. Ellis Park in 2007 was contractually limited to the distribution to TrackNet Media Group, the consortium of Churchill Downs Inc. and Magna Entertainment Corp., which respectively own Twinspires and XpressBet, but Geary had renegotiated that portion of his contract that allowed him to purchase the track from CDI.

The average daily ADW handle for 2008 was $173,688, up 87% when compared to a daily average handle of $92,871 for 2007, the track reported. Ellis Park also reported its cumulative all-source handle of $78,080,000 ranked fifth out of 26 race tracks operating in the United States in July and August, trailing only Saratoga, Del Mar, Arlington and Monmouth.

"I am thrilled we are included with such well-respected racetracks," said Geary in the release. "Ellis Park's efforts to broaden our distribution system through ADW contracts definitely helped, but I am certain a rich tradition of Kentucky Thoroughbred racing made a difference as well."

Geary earlier told The Gleaner of Henderson, Ky. that he considered the meet a good one overall, despite the prospect of the track losing money for the ninth straight year. Ellis Park was previously owned by Churchill Downs Inc. from 1998 to 2006, when a Geary-affiliated company acquired it.

"I think we proved what can be accomplished when management and horsemen work together to find some solutions," he told the newspaper. "But, unfortunately, cooperation will only take you so far."

Ellis Park reported attendance averaged 3,022 daily, up 1.4% compared to the average of 2,979 daily for 2007. Both handle and attendance were below the $2.7 million in average daily handle and 3,519 in attendance recorded in 2006, according to news releases from the track that year.

Business at Ellis Park looked promising in its opening three days, with an average daily handle of more than $2.26 million nearly 56% higher than 2007 (this year's opening days were on a Friday through Sunday schedule, while last year's was on a Wednesday through Friday, with the Wednesday being July 4).

Average daily purses declined 4% for the meet, according to The Jockey Club data, falling to $134,235, as compared to $139,880 last year. Ellis Park bumped its purses by 5% twice during the meet. Average filed size this year dropped 1% to 7.61 from 7.72.

Geary reemphasized his position as a strong advocate of bringing slot machines to Kentucky.

"An increasing number of Midwest racetracks can offer higher purses due to slot revenue, but we do not have that luxury," Geary said in the release. "Loyalty of our local horsemen kept our stables busy. For that we are forever grateful.

"In light of all we faced the first of July, I am perfectly content with the outcome of the Ellis Park 2008 live meet," Geary said. "I am looking forward to continuing the trend upward and onward in coming years."



Copyright © 2015 The Blood-Horse, Inc. All Rights Reserved.