Bay Meadows Restraining Order Denied
Date Posted: 8/22/2008 8:32:02 PM
Last Updated: 8/23/2008 4:45:14 PM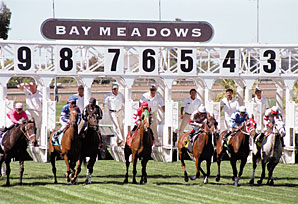 Photo: Vassar Photography

From a Press Release:

On Aug. 22 the Honorable Judge George Miram of the San Mateo County Superior Court denied a temporary restraining order sought by the Friends of Bay Meadows seeking to halt the scheduled auction of Bay Meadows memorabilia and commercial assets. Judge Miram ruled against the TRO, stating that filing did not meet the legal requirement that their filing demonstrate a likelihood of success in their lawsuit.

The auction, which is to include such items as seats, photos, and signs, is scheduled for Aug. 23-25, with bidding beginning at 10 a.m. each day.

According to Bay Meadows spokesperson Adam Alberti, "We are pleased that the temporary restraining order filed by Friends of Bay Meadows has been denied. We are looking forward to a successful auction this weekend that will provide anyone who is interested the opportunity to own a piece of Bay Meadows.

"We also look forward to bringing this innovative mixed-use project forward on in the coming months. The sooner this project is complete, the sooner San Mateo and the entire region can begin enjoying the many benefits associated with this important new transit-oriented neighborhood."



Copyright © 2015 The Blood-Horse, Inc. All Rights Reserved.