DeKock Backs Off on Million Comments
Date Posted: 8/19/2008 1:41:50 PM
Last Updated: 8/19/2008 2:00:14 PM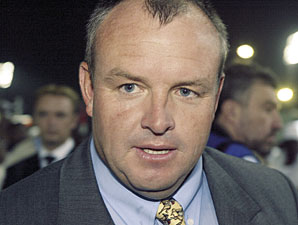 Michael DeKock
Photo: Trevor Jones

South African trainer Michael DeKock has backed off his comments made immediately after the Aug. 9 Arlington Million (gr. IT), in which his horse Archipenko was upset by Spirit One.

DeKock initially criticized the riding of jockey Johnny Murtagh, aboard Mount Nelson, for boxing in Archipenko and jockey Kevin Shea during the course of the race. Archipenko finished second and Mount Nelson third.

DeKock later told The Racing Post that his post-race comments were made in the heat of competition. "I have had time to reflect and I admit fully that it was the wrong thing to say," he told the newspaper.

"At the end of the day I have a lot of respect for Johnny Murtagh and I don't want to fall out with him," DeKock continued. "He is one of the best jockeys I have ever seen, let alone worked with. In the heat of the moment afterwards, Kevin (Shea) and I were very emotional and I owe him more respect. We planned this race for a year and we just have to live with the result. Johnny (Murtagh) is a big part of my team in Dubai where I intend sending 40 horses this year and I have the utmost respect for him."



Copyright © 2015 The Blood-Horse, Inc. All Rights Reserved.