OBS Sale to Test Market With Quantity
by Deirdre B. Biles
Date Posted: 8/16/2008 9:17:12 PM
Last Updated: 9/4/2008 9:43:37 AM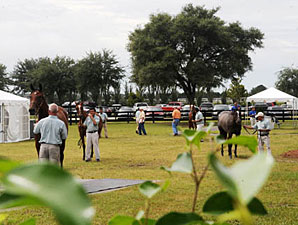 Yearlings at the OBS August Yearling Sale.
Photo: Joe DiOrio
The Ocala Breeders' Sales Co. (OBS) will test the yearling market with quantity at a time when some buyers might be cutting back on their purchases because of America's struggling economy. There are 1,342 horses cataloged for the auction, which begins with a select session of 230 yearlings Aug. 18. Three open sessions will follow.
"The select day, I think, we'll be in good shape," said Tom Ventura, the OBS general manager and director of sales. "The prices there still are kind of in the comfort range of the pinhookers, and we'll have enough competition from the end users as well. After that, with the moderate to lower priced horses, we'll have to see how much of the demand will be able to absorb the supply. It's hard to gauge how the economy will impact it. I would think it would have some impact, but how much, I don't know."
One factor in the auction's favor, according to Ventura, is the recent success of its graduates.
"The horses from two years ago are now 3-year-olds, and we have eight graded stakes winners that have come out of that sale; that's advertising you can't buy, and it should help us," Ventura said. "Macho Again will be one of the favorites in the Travers (gr. I), and Denis of Cork has run well against Big Brown a couple of times. And from last year's sale, there already are eight stakes horses. Those are the kind of things that you hope will get the attention of the buyers."
The results of this year's earlier yearling auctions have been mixed. In general, buyers have been more selective than usual, and higher buy-back rates have been common.
"If you're not in that top 25% to 30% of the sale, you're going to have trouble getting your horses sold," said Justin Casse of Casse Sales. "It's not a matter of setting your reserves low enough; it's just a matter of nobody wants your horses. Plenty of pinhookers that I've talked to have said they're cutting back, and they're being more selective about where they're spending their money compared to the last three or four years."
In 2007, the number of horses sold (945) and the gross revenue ($18,726,900) suffered small declines from the previous year's all-time highs. The average price reached its second-highest-level ever of $19,817, but grew less than 1%.
The select session, during which 167 yearlings were sold, set a record for median price of $50,000, but its gross of $9,679,500 and average of $57,962 were down from the all-time highs in 2007.
Following are what some other people had to say about the prospects for this year's OBS August auction:
Francis Vanlangendonck, Summerfield: "Everybody in town damn sure wants to buy horses, and then I've talked to a bunch of people from out of town who are going to get here today (Aug. 16) and tomorrow. I think it's going to be just like the rest of the sales. The bottom end is going to get smacked around, but the better horses are going to sell well. I think it's going to be fine. Our open sale is probably going to take a little bit of a hit from the economy, just like the second week of the Keeneland September yearling sale will."
Eddie Martin, Martin Stable South: "At the top of the market, it's going to be fine. For the top individuals, the buyers and the finances are there, and the demand is high. The lower and middle markets are going to suffer at lot."
Janie Roper, consignor: "I think it's a very nice catalog, and I hope it will attract the buyers. I'm sure the economy will have some kind of impact on it, but I have no idea how much people are going to slow down on their spending. Considering the (rainy) weather, we've been pretty busy."
Dr. Cara Erwin-Oliver, Marion Bloodstock: "I think the sale is going to go OK. We've got some nice stock here. I haven't really gone around and looked at a lot of horses yet, but I've watched horses unload off the trailers shipping in, and it seems like there are lot of good individuals. I just don't see it being a bad horse sale. Saratoga seemed like it went well, and this is next in line. Everybody (in the Thoroughbred business) needs to buy horses. You can't stop because of the economy. This is what we do for a living."
Richard Kent, Kaizen Sales: "This is a very picky group of buyers here. They know exactly what they like, and they're willing to give you a very fair price for what they like. For the ones that don't fit their criteria, it will be difficult. If you've got the right horse for this market, you'll be very happy with the price. I think it's going to be a little tougher market because the pinhookers are even more selective in what they want. Hopefully, more end users will show up."
Randy Hartley, pinhooker: "A lot of pinhookers like to buy at this sale. They can buy fast horses for a decent price. And you always have Buzz Chace and the other end users that come in here and buy the few top horses. I think we're also going to have some good California people who are in here to buy."
Beth Bayer, consignor: "The buyers are all here; it looks like it's crazy busy. I think it's going to be a good sale. The top horses, I still believe, are going to sell really well. People want the best, and they want everything to fall into place. The middle market just isn't there."
Danzel Brendemuehl, Classic Bloodstock: "You can compare these horses to the ones that were in the (Fasig-Tipton) Saratoga New York-bred (preferred) sale, and those horses were selling fairly well for what they were. This sale always brings out the pinhookers, so I think we'll be OK. People are seeing the light at the end of the tunnel, and they're looking forward to better times. I don't think we're going to have the kind of recession that we did in the 1980s. I think the economy will have some effect, but I think it will serve to make the top end get higher."
Tommy Eastham, Legacy Bloodstock: "I think it's going to be similar to the rest of the sales; there's going to be a lot of people playing on a few horses. If you're able to meet their (the buyers') requirements, you're going to be OK. For the typical consignment now, if you have 10 horses, you'll be covered up on three of them; three of them you'll be OK on; and the other four, you'll have to go and get the buyers for them because they're not going to come to you."
Complete results from the 2007 OBS August sale.

Copyright © 2015 The Blood-Horse, Inc. All Rights Reserved.