Takeout Increase Under Attack in NY
by Tom Precious
Date Posted: 8/15/2008 5:30:07 PM
Last Updated: 8/17/2008 12:28:05 PM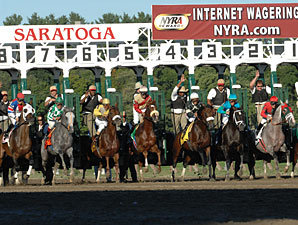 Photo: Coglianese Photos

An effort is underway by racetracks and OTBs in New York state to derail a looming hike in the pari-mutuel takeout before it takes effect next month.

The New York Racing Association, New York City Off-Track Betting Corp. and others say the takeout increase will not raise the intended revenues – about $7 million for the industry – because it will erode their competitive edge with out-of-state betting entities.

Meanwhile, out-of-state tracks are also checking into the dispute, saying New York is taking the unprecedented step of trying to affect takeout rates beyond its borders. Some are insisting to New York that other states would have to also approve the takeout increase for those bets affecting tracks within their borders.

The state last spring approved the takeout increase as a way to raise money for NYCOTB. The giant betting company, however, was taken over by the state, and NYRA and others say the takeout provision was unneeded and costly to the industry at a time it is competing for a share of the betting dollars.

The law calls for a takeout increase of 1% on all Thoroughbred races except Finger Lakes, effective Sept. 15. It affects bets made at NYRA tracks and OTBs, and on bets made on all out-of-state Thoroughbred races.

Now, however, the various industry stakeholders are pressing officials at the state Capitol to keep the current takeout levels before the new one is implemented in September. The move comes as the state legislature is due back in Albany Aug. 19 for a one-day session to deal with the state's worsening fiscal problems. Lobbyists for NYRA and the OTBs are pressing to get a bill before both houses by then.

NYRA wants to just eliminate the impending increase. NYCOTB, according to legislative sources, wants the same, although it is eyeing a possible increase on the surcharge at NYCOTB parlors, though not on telephone account or tele-theater wagers.


"It's a complex topic, but the legislation, which we don't believe can achieve the projected financial results, puts all New York wagering entities at a competitive disadvantage with the rest of the country," said John Lee, NYRA spokesman.

Jeffrey Gordon, a spokesman for the Gov. David Paterson's budget office, declined comment when asked if the administration is considering the takeout change request.

For NYRA, the takeout issue has been a major thorn for years; its former chairman, Barry Schwartz, was a major advocate for lower takeouts as a way to better compete with out-of-state entities.

Officials at NYCOTB confirmed a push is underway to change the law. "There seems to be a general consensus that out-of-state takeout would generate a certain amount of revenue at the cost of losing some very valuable customers,'' said Dan Wray, a NYCOTB lobbyist.

While there seems to be no major organized opposition, the groups are fighting a shortage of time before the special session, as well as reluctance by some Capitol officials to broaden that day's agenda to more items than the already ambitious lawmakers will be facing.





Copyright © 2015 The Blood-Horse, Inc. All Rights Reserved.