Inside Track: Wedding at the Wire
by Esther Marr
Date Posted: 8/11/2008 2:02:48 PM
Last Updated: 8/13/2008 11:10:37 AM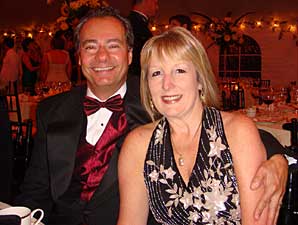 Jim Barbetta and Michelle Mattiske
Photo: courtesy of Jim Barbetta

A relationship that began nine years ago will culminate in a wedding revolving around two passions the betrothed couple share: horse racing and Saratoga Race Course. Between the third and fourth races on the twilight card of Saratoga's final Friday of the season, Aug. 29, Jim Barbetta and Michelle Mattiske of Waterford, N.Y., will exchange vows courtesy of the track's first-ever "Race to the Altar" contest.

Barbetta, 54, and Mattiske, 49, were chosen by the public out of four finalists in an Albany Times Union online poll that received more than 12,000 votes to celebrate their wedding day at the Spa.

"We've been together nine years, and have been engaged for four of those, so we always joke that we're professionally engaged," said Mattiske. "We knew we were going to spend the rest of our lives together, but we weren't heading toward the altar any time soon. But when this came up, it's like we went from being professionally engaged to, 'Oh my gosh—we're getting married in eight weeks!' "

The contest was launched in May as five female exercise riders on horseback wearing bridal gowns emerged from the starting gate at the Spa.

The scene appeared in a local television ad to promote the contest, as well as in a video on the newspaper's Web site. Dozens of couples submitted applications, with four finalists chosen by a panel of judges.

"We've been involved with NYRA for 31 years, doing promotions and public relations, so we've always tried to find new and different things," said Ed Lewi, president of Ed Lewi Associates, who noted the exercise riders had to break from the gate several times before getting the perfect take. "We had to back the horses in, because they're ponies, and with the veils and stuff like that flying, we didn't want anything to get caught," he said of the photo and video shoot. "The ladies were very competitive—they all wanted to win, and all I wanted was for them to come out of the gate nice and easy."

The public has now been helping to plan Barbetta and Mattiske's ceremony and reception by voting on various wedding amenities provided by Capital Region bridal professionals. Already chosen are the honeymoon destination, bridal gown, and reception location.

Because of its cost effectiveness in garnering donated services and its ability to create excitement for fans throughout the season, Lewi said the Race to the Altar may become an annual event at Saratoga.

"The vendors have been wonderful," said Mattiske. They're so very generous, and it's been kind of fun, but also stressful just like anyone else planning their wedding."

Even though Barbetta and Mattiske have both been married twice before, they are convinced the third time around will be a charm.

The couple met in 1999 when Barbetta mistakenly called Mattiske's office. Conversation between the two continued for several weeks before they finally met in person.

It was fitting that one of their first dates was at Saratoga. Mattiske, a newcomer to the horse racing world, suggested visiting the track on a Tuesday afternoon, which Barbetta had to politely explain was a "dark day."

Barbetta's love of racing began with trips to Saratoga with his grandfather and has continued with perfecting his handicapping skills over the years. He now enjoys basking in the storied Spa atmosphere alongside Mattiske, who is still learning the ropes of the industry.

"I really wasn't into racing at all until I met him, and now I love it," said Mattiske, who said she often bets horses based on their names.

"I just bet Forever Together the other day because of our upcoming wedding," said Mattiske, referring to winner of the July 26 Diana Stakes (gr. IT) at Saratoga.

Barbetta, a more serious handicapper, said he has considered entering into horse ownership in the future. "I'd love to do it," he said. "There are so many syndicates out there and different things, and I also have a couple friends who own horses.

"Without a doubt, (attending races at Saratoga) is my passion and my love, and next to Michelle, it's the thing I love the most," he said. "I love being there, and I just love the place, and I always have."

Said Mattiske: "Even though I've been married twice, I never had a wedding…so I am getting the fairy tale wedding—I've got the gown, the prince, I've got everything. For me, it really is a dream come true."



Copyright © 2015 The Blood-Horse, Inc. All Rights Reserved.