Asmussen Stars Work at Oklahoma Track
by Blood-Horse Staff
Date Posted: 8/11/2008 1:49:06 PM
Last Updated: 8/12/2008 2:18:15 PM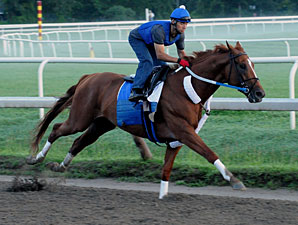 Curlin, shown working last week at Saratoga, posted a six furlong move over the Oklahoma Training Track on Monday, Aug. 11.
Photo: NYRA
Trainer Steve Asmussen called an audible early Monday morning, switching 2007 Horse of the Year Curlin's scheduled workout from Saratoga Race Course's main track to the Oklahoma training track because of overnight rains.

"Mother Nature said, 'Not today'," said the trainer, who apparently made the right call as rain again hit the area a few hours after the work.

With regular exercise rider Carmen Rosas aboard, the 4-year-old chestnut went out in the second set after the first break, working three-quarters in 1:14.67 over the muddy training track in company with stablemate Hawaii Calls as he prepares for the grade I, $500,000 Woodward at nine furlongs at Saratoga Race Course on Aug. 30.

"I think he's a lot more relaxed earlier in a work when he's in company," Asmussen said of Curlin, ranked by Timeform of England as the world's best Thoroughbred last week. "In company, he gets smoother works."

Curlin was timed in splits of :13.04, :25.47, :37.82 and :49.75, galloping out in 1:28.68. Hawaii Calls, also owned by Stonestreet Stables, was timed in 1:14.97.

"They went a little quicker than I was expecting them to, but they did it really easily," said Asmussen. "I got them in 1:14 and change and we were expecting 15 or a little slower. We were hoping to get a work on the main track, and this morning would have been good because we would have gotten that done and over with. Now, we will really have to watch the weather, but if the main track is muddy (next week), we'll work him here."

Asmussen also sent out Pyro, Whitney runner-up Student Council, and sprinter J Be K Monday morning. Pyro worked six furlongs in 1:16.01 with jockey Shaun Bridgmohan aboard, while Student Council covered the same distance in 1:14.46.
J Be K, who is being pointed to the Aug. 23 King's Bishop Stakes (gr. I) at Saratoga, went five furlongs in 1:01.40.

"Pyro had a solid race last time, and his work this morning was nice and steady and safe," said the trainer. "He galloped out real big and came back good."

Pyro is expected to run in the meet's biggest race, the $1-million Travers Stakes (gr. I) presented by Shadwell Farm. The "Mid-Summer Derby" for 3-year-olds at 1 1/4 miles will be run Aug. 23.

Student Council took to the mud with relish, turning in splits of 12.69, 24.77, 36.88 and 48.87, galloping out in 1:28.84. Asmussen said he is tempted to follow the same schedule as he did last year when he won the Pacific Classic (gr. I), to be run on Aug. 24.

"He worked Monday and flew out Wednesday," said the trainer. "He's a fabulous work horse, a train."
Copyright © 2015 The Blood-Horse, Inc. All Rights Reserved.