8 Retired Jockeys in Pari-Mutuel Race
by Blood-Horse Staff
Date Posted: 8/8/2008 1:17:00 PM
Last Updated: 8/9/2008 3:17:41 PM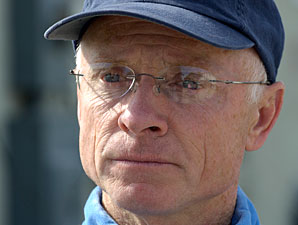 Chris McCarron is one of 8 retired jockeys participating in The Living Legends Race on October 18.
Photo: Anne M. Eberhardt

Edited press release

Eight Hall of Fame jockeys – with combined earnings of over $1.5 billion from 49,163 victories -- will compete in a pari-mutuel wagering event, "The Living Legends Race," on Oct. 18 during the Oak Tree at Santa Anita meet as a prelude to the following weekend's Breeders' Cup World Championships.

Held in conjunction with racing's new "Legends on Tour" as well as the Breeders' Cup, Hall of Fame jockeys set to compete in Santa Anita's unprecedented race are, in descending order of age: Angel Cordero Jr., 65; Jacinto Vasquez, 64; Sandy Hawley, 59; Pat Day, 55; Chris McCarron, 53; Jerry Bailey, 51; Gary Stevens, 45, and Julie Krone, 45. Their average age is 55.

The allowance event will be contested at a sprint distance. Each rider's mount, a California-bred selected by draw, will be assigned 126 pounds. And the winning jockey will provide the elite group with its 49,164th combined victory while increasing the number of total mounts by eight to 261,854.

"We are pleased to be able to host this unique promotion," said Sherwood C. Chillingworth, Oak Tree's executive vice president, in making the announcement on Friday. "This truly is an event that will be difficult to ever duplicate with such a distinguished, accomplished group of riders."

The race will be the fourth on Saturday, Oct. 18, and will be preceded by a Living Legends salute and ceremony in the winner's circle. Popular local Hall of Famers Laffit Pincay Jr. and Eddie Delahoussaye, retired due to injuries, as well as East Coast riding star Jorge Velasquez will serve as Living Legends Ambassadors. Factor in their career figures (Pincay, 9,530 wins and $237,120,625 in earnings; Delahoussaye 6,384 and $195,884,940, and Velasquez, 6,795 and $125,544,379) and the assembled stars' joint figures swell to 71,872 wins and earnings near $2 billion.

"I'm very proud to be associated with Legends on Tour and this race," said Pincay. "We've worked very hard to put this together."

Jerry Bailey added, "I'd be surprised if we ever see the likes of this gathering again. The total number of our wins and purse money takes your breath away."

Exhibitions involving "old-time" jockeys have been staged at various racing venues over the years, but none has included such a dazzling array of the sport's everlasting stars while being granted pari-mutuel wagering status.

Race victories and mount earnings by the participants during their active careers: Day, 8,803 and $297,912,019; McCarron, 7,141 and $263,985,505; Cordero, 7,057 and $164,570,227; Hawley, 6,449 and $88,681,292; Bailey, 5,893 and $296,104,129; Vasquez, 5,228 and $85,754,115; Stevens, 4,888 and $221,207,064, and Krone, 3,704 and $90,125,644.

When Day announced his retirement on Aug. 3, 2005, his earnings surpassed those of any jockey in history. He is a four-time Eclipse Award winner with victories in 12 Breeders' Cup races including four Classics and nine Triple Crown events. Day is the all-time leading rider at Churchill Downs and Keeneland in his adopted state of Kentucky.

McCarron closed out his career on June 23, 2002, with a victory aboard Came Home in the $107,500 Affirmed Handicap at Hollywood Park while exiting as racing's leading money-earner. He won nine Breeders' Cup races including five Classics as well as six Triple Crown races during his 28-year-career.

Widely regarded as one of the sport's fiercest competitors, Cordero won six Triple Crown events and four Breeders' Cup races while becoming the only native of Puerto Rico to be inducted into racing's Hall of Fame. The leading rider at Saratoga for 13 seasons, he went on to become a trainer and subsequently the agent for top Eastern-based rider John Velazquez, a fellow Puerto Rican.

A native of Oshawa, Ontario, Canada, Hawley rode for 31 years until his retirement on July 1, 1998. After apprenticing in Canada with 230 winners in 1969, he moved to the U.S. where he led all jockeys in victories in 1970, 1972, 1973 and 1976. He became the first jockey to ever win 500 races – 515 -- during a single year in 1973 when breaking Bill Shoemaker's record. He earned the Eclipse Award in 1976 setting an all-time money winning record for a single year.

Bailey retired on Jan. 28, 2006 with the most Breeders' Cup victories, 15, of any rider in history including five Classics. He won each of the Triple Crown races twice and took four of the first 10 runnings of the Dubai World Cup including the inaugural aboard Cigar. He may be best remembered as the regular rider of Cigar, who tied racing's record for consecutive victories at 16 in 1996. He currently is a racing analyst for ABC Sports and ESPN

Vasquez won a pair of Kentucky Derbys (Foolish Pleasure, 1975, and Genuine Risk, 1980), but might be best known as the regular rider of the great filly Ruffian. The native of Panama chose to ride Ruffian over Foolish Pleasure in their historic match race on July 6, 1975, when Ruffian broke down. Vasquez would proceed to capture the Ruffian Handicap, named in her memory, four times at Belmont Park. He retired in 1996.

The youngest jockey to surpass $100 million in earnings at the age of 30 in 1993, Stevens reached the winner's circle in eight Triple Crown events including the Kentucky Derby three times. He was victorious in eight Breeders' Cup races and won the Santa Anita Derby a record nine times. Stevens announced his retirement on Nov. 27, 2005 and currently works as a racing commentator for NBC Sports and HRTV.

The only female rider inducted into racing's Hall of Fame, Krone became the first woman to win a Triple Crown race in 1993 when taking the Belmont Stakes aboard Colonial Affair and remains the only female to ride in that classic, having done so five times. She also is the sole female to capture a Breeders' Cup race, winning the 2003 Juvenile Fillies aboard Halfbridled. Krone won five Oak Tree races on Oct. 4, 2003, at Santa Anita. She led jockeys' standings at Belmont Park, Monmouth Park, Meadowlands, Gulfstream Park and Atlantic City during a career that spanned 25 years.

For updates on the Living Legends Race at Oak Tree at Santa Anita visit www.oaktreeracing.com, www.santaanita.com or www.legendsontour.com



Copyright © 2015 The Blood-Horse, Inc. All Rights Reserved.