'Dynasties' Event Planned at Arlington
by Blood-Horse Staff
Date Posted: 7/30/2008 6:41:41 PM
Last Updated: 8/2/2008 3:27:21 PM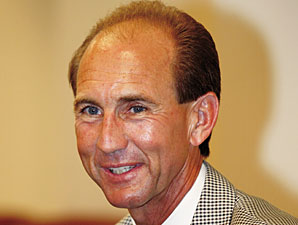 Jerry Bailey will be one of the hosts for "Dining with the Dynasties."
Photo: Bill Denver/EQUI-PHOTO

Hall of Fame jockeys Jerry Bailey, Pat Day and Earlie Fires will host "Dining with the Dynasties," a special lunch for seven other participants at Arlington Park on Aug. 8, the day before the Arlington Million (gr. IT). The luncheon, in the track's Million Room, is being auctioned on eBay to benefit the Illinois Race Track Chaplaincy of America division and the Disabled Jockeys Fund.

Bidding will close Aug. 6 at 9 p.m., EST. The auction can be accessed from the eBay front page through the account number 310070700382 or by typing in "Dining with the Dynasties."

Day and Bailey are the world's two all time leading riders in purses won with a total of nearly $600 million. The two also rank first and second in Breeders Cup World Championship races with 12 and 15 victories, respectively, with nine coming in the Breeders Cup Classic (gr. I). The two have won 15 Triple Crowns races.

Earlie Fires, inducted into the Hall of Fame in 2001, still rides regularly at Arlington Park, where at 61 he is the track's all-time leading rider. In a 33-year career, he has amassed over 5,400 victories. He has announced his retirement at the end of the current Arlington Park season. The three riders have won a total of over 20,000 races.

Day and Fires will also autograph photos at the track from 4-5 p.m. on the same day to also benefit the Illinois RTCA and the Disabled Jockeys Fund. Bailey may also be available to provide autographs.

For more information contact RTCA executive director, Dr. Enrique Torres, or development director Ed Donnally at 310-419-1687 or edonnally@sbcglobal.net



Copyright © 2015 The Blood-Horse, Inc. All Rights Reserved.