Interest in Registry Low at F-T Sale
by Deirdre B. Biles
Date Posted: 7/25/2008 10:55:41 AM
Last Updated: 7/26/2008 8:06:30 PM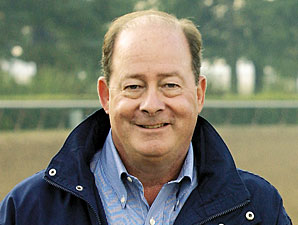 D. G. Van Clief Jr.
Photo: Anne M. Eberhardt
If what happened at the Fasig-Tipton Kentucky July select yearling auction is any indication, disclosure of the ownership of sale horses might not be a priority for consignors or buyers.
There were 568 horses in the catalog for the auction, which kicked off the yearling selling season, and 498 went through the sale ring. Owners or consignors placed information about 82 of the yearlings in the voluntary ownership registry maintained by Fasig-Tipton. For 61 of the 82 horses, there was ownership information on file that couldn't be found on the pages of the sale catalog. The registry received no inquiries from buyers about the ownership of any yearling, according to information provided by the Sales Integrity Program Monitoring Committee and the Thoroughbred Owners and Breeders Association.
A voluntary ownership registry was one of the recommendations issued by the Sales Integrity Task Force last year.
"I don't think we should start drawing definitive conclusions based on the first 500 or so yearlings through the ring this year, but certainly I think we all believe that we've already got some information that gives us at least a good hint about how the marketplace perceived and used the new policy," said D. G. Van Clief Jr., chairman of both Fasig-Tipton and the monitoring committee. "Given the emphasis put on ownership disclosure for the past couple of years, I'm really surprised that we had no requests for ownership information through the registry. What we don't know, and there is no way of knowing, is how many inquiries about ownership consignors got at their barns."
Interest in the ownership registry could be greater at other auctions where it is offered, according to Van Clief.
"Maybe it was the market niche we were looking at," he said. "We might find something different at Saratoga with a different market niche, and we might see something different through the various strata of the Keeneland September sale. That's why I say it's too early to draw much of a conclusion, although my preliminary inclusion is that it looks possible that ownership information is not nearly as important to the marketplace as some individuals have indicated it should be."
Copyright © 2015 The Blood-Horse, Inc. All Rights Reserved.