Weather Could Alter Peppers Pride Plans
by Jack Shinar
Date Posted: 7/24/2008 3:56:30 PM
Last Updated: 7/27/2008 1:51:46 PM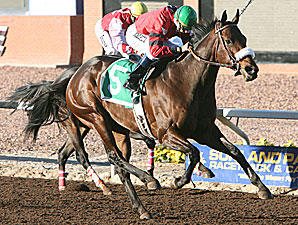 Peppers Pride
Photo: Coady Photography

Undefeated Peppers Pride will be heavily favored when she goes for the modern-day North American Thoroughbred record of 17 consecutive victories in the $55,000 Lincoln Handicap at New Mexico's Ruidoso Downs on July 27. Threatened thunderstorms, though, could keep her in the barn.

Prior to entering the 5-year-old mare in the six-furlong event for New Mexico-bred fillies and mares, trainer Joel Marr she would would not run on any sort of off track. Though they've held off so far, isolated thunderstorms are in the forecast for the area throughout the remainder of the weekend.

"She is not going to run on an off track. She's never done it before and it doesn't seem like the right time to try it," Marr said July 23.

This would be Peppers Pride's first start since winning the Russell & Helen Foutz Distaff Handicap for state-breds at SunRay Park April 26. Weather concerns aside, Peppers Pride will be spotting her rivals between 11 and 16 pounds while carrying 127 in the Lincoln, which is another issue for Marr and owner/breeder Joe Allen. Six opponents entered the Lincoln and Peppers Pride has beaten most of them before.

"I wasn't surprised that we got 126 or 127, it's what I was expecting," Marr said. "I didn't expect that the others would be dropped as much as they were. We've never given more than an eight or nine-pound spread."

Marr said the three-month break between races, while not unusual for Peppers Pride, is also a worry. "Whenever they get to be her age, it's a concern, sure. We've had a lot of bad weather the past three weeks, so that's cut into her training a little bit as well."

Peppers Pride breezed a half-mile in 52 seconds flat July 22 and the 41-year-old trainer reported that the dark bay or brown mare appears to be ready to go. She has been stabled at Ruidoso Downs for the past two months.

Peppers Pride is attempting the record at the same track she began her streak with a 4 1/2-length win in a futurity trial race July 16, 2005. She has three victories over the track, including last year's Lincoln, which she won by by a half-length while carrying 127.

A lifetime earner of $861,665, the daughter of Desert God--Lady Pepper (by Chili Pepper Pie) has won all 16 races against New Mexico breds, including 12 stakes victories. In her last start, she had to overcome a bit of trouble, taking a bump heading into the first turn of the 6 1/2-furlong event and trailing the pacesetter Charlie's Pizzazz by as much as 10 lengths. She gradually cut into the lead, however, and at the top of the lane, Peppers Pride established control under mild urging from jockey Carlos Madeira, who has ridden her in every start.

Marr said Peppers Pride came out of the Foutz Distaff a little tired and he gave her some extra time off before beginning training for this race. He said that he and Allen have not been tempted to aim for tougher competition in order to justify breaking the record.

"We know there are horses out there that can beat us. But she's earned what she's done," he said. "The winning streak was not the point. We were not even aware of the record until people started mentioning it to us after she won she won 10 in a row. Every time she raced, all we were trying to do was win that day. We're not as worried about the record as some people are concerned about us breaking it."

Peppers Pride will break from post 3. Her rivals include Charlie's Pizzazz. Let the Musicbegin, who ran third in the Foutz Distaff, is weighted at 116, as are Hollywood Gone and Good Looker R F.

Marr said that if the weather doesn't cooperate, an option for Peppers Pride could be the $50,000 Carlos Salazar at 6 1/2 furlongs at the Downs at Albuquerque on Aug. 17. He noted that weights for the Salazar are based on allowance conditions.

Four others -- Citation, Mister Frisky, Cigar and Hallowed Dreams -- have won as many in succession as Peppers Pride, but each lost in quest of number 17.

Citation's streak was ended by by Miche at Santa Anita in a six-furlong handicap Jan. 26, 1950, in his second race following a year's layoff due to a serious ankle injury. Trainer Jimmy Jones said that "Big Cy" was never the same after the injury. Interestingly, the Calumet superstar had started his career with 12 wins in 13 races, including seven in a row prior to starting his 16-race streak.

Santa Anita Derby (gr. I) winner Mister Frisky, who began his streak in Puerto Rico, was defeated when he finished eighth in the 1990 Kentucky Derby (gr. I), a race won by Unbridled.

Cigar's historic run ended in a runner-up finish to Dare and Go in the 1996 Pacific Classic (gr. I) at Del Mar.

And Hallowed Dreams, who like Peppers Pride was undefeated in her first 16 starts while facing mostly Louisiana-bred opposition, finished third behind Sparkles of Luck in a stakes race established specifically for the record run by Evangeline Downs in 2000.

Internationally, Hong Kong's Silent Witness won 17 in succession before losing to Bullish Luck in the 2005 Champion's Mile (HK-I). Ajax won 18 straight races in Australia during the 1930s.

$55,000 Lincoln Handicap (Race 10, 4:54 p.m.), State Bred Fillies & Mares 3 & Up, 6 Furlongs
PP. Horse, Weight, Jockey
1. Let the Musicbegin (NM), 116, Ricardo Jaime
2. Hollywood Gone (NM), 116, Ken S. Tohill
3. Peppers Pride (NM), 127, Carlos D. Madeira
4. Good Looker R F (NM), 116, Jorge M. Bourdieu
5. Charlie's Pizzazz (NM), 115 Alejandro Medellin
6. Lady Lance (NM), 114, Quyet E. Bui
7. Miss Possibility (NM), 111, Miguel A. Perez



Copyright © 2016 The Blood-Horse, Inc. All Rights Reserved.