Del Mar Focuses On More Consistent Track
by Tracy Gantz
Date Posted: 7/17/2008 12:36:29 AM
Last Updated: 7/18/2008 7:27:11 AM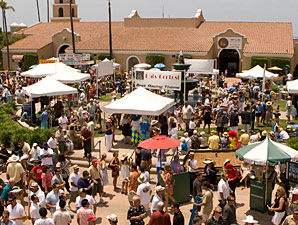 Opening Day at Del Mar brought out the crowd.
Photo: Benoit

Water, designed to keep Del Mar's Polytrack more consistent from morning to afternoon, also led to three track records opening day, July 16, at the Southern California track. The five races carded over the synthetic surface were run at four different distances, with new marks set at 5 1/2 furlongs, six furlongs and a mile.

An opening-day record crowd of 43,459 attended the curtain-raising program. It was the second-largest crowd ever at Del Mar, following the 44,181 who saw the 1996 Pacific Classic (gr. I) in which Dare And Go upset Cigar.

Horsemen seemed pleased with Del Mar's efforts to make the track more consistent. In addition to more water being applied to the track, more wax was added.

"My feeling is it's had a year to settle in, and it's got to be a ton better than it was last year," said trainer Jeff Mullins, who won the first race of the meeting with Plan for Fun. "In the morning the track seems like it's about two seconds faster than it was last year to me."

Tyler Baze, who rode Plan for Fun, echoed Mullins.

"It looks like it's going to be very fair," Baze said.

Del Mar installed Polytrack for its 2007 meeting as part of the California Horse Racing Board mandate for synthetic surfaces. Track management also wanted to reduce the number of catastrophic injuries at the track. While Polytrack performed well in that regard, several horsemen were concerned about the inconsistency in the surface from the cool mornings to the hotter afternoons.

"We are delighted with the performance so far," said Joe Harper, president of Del Mar. "The times are playing a little faster." Harper emphasized that safety would continue to be the number one priority. "We don't want it lightning fast."

Harper said that Del Mar management had collected extensive data from the 2007 season to gauge how much water to put on the track each day depending on the temperature. Dr. Mick Peterson has been assisting Del Mar. A professor in mechanical engineering at the University of Maine, Peterson has developed a biomechanical hoof tester that he has used in research and testing at racetracks across the country, both on synthetic and dirt surfaces.

"Last summer was about as hot a summer as we can get," Harper said. "We've got that data from last year to look at, and we can make judgments on those really hot days as to how much water we have to put on the track."

On opening day this year, the temperature was in the mid-70s.

"All of us that have synthetic tracks are going to school trying to figure out how to maintain them," said Harper.

The track is also using water that has gone through a reverse-osmosis process to purify it. Harper, who pointed out two large tanks on the backside, explained that they discovered last year that regular tap water contaminated the Polytrack surface because of the water's impurities.

Winners on the Polytrack launched their bids from a variety of spots. Favored Plan for Fun came from last to run a mile in 1:37.82. The previous mile mark was 1:39.14. Three others ran in the middle of the pack early, and the fifth won on the lead.

"I think it's playing a lot better than it did last year," said Art Sherman, who won the third race with 14-1 Unusual Heather. "Now they're kicking in down the lane. Before, everybody used to be floundering. Now you can tell turning for home that horses had momentum and were moving forward, which we didn't have last year."

Racing over six furlongs, Unusual Heather stopped the timer in 1:10.37, breaking the previous record of 1:11.06. Miguel's Mascot set the third new mark, running 5 1/2 furlongs in 1:04.48. The previous record was 1:04.76.

As usual, the Oceanside Stakes split into two divisions. Newly appointed California Horse Racing Board commissioner Bo Derek presented the trophy to winner Kilderry's connections after the first division.

"I'm very excited to be on the board," said Derek, a longtime horse owner who rides Lusitanos at her home in California's Santa Ynez Valley. "I love the sport. I think it's a very exciting time and a very positive time for racing. I ride and I don't have Thoroughbreds, but I love them. This just seems like an exciting opportunity."




Copyright © 2015 The Blood-Horse, Inc. All Rights Reserved.