Economy Squeezes F-T July Yearling Sale
by Deirdre B. Biles
Date Posted: 7/16/2008 8:09:26 AM
Last Updated: 7/16/2008 6:12:39 PM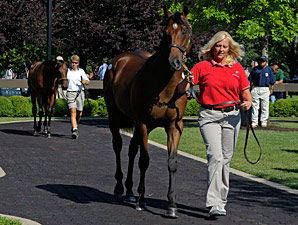 Fasig-Tipton Kentucky July Yearling Sale
Photo: Anne M. Eberhardt
Perhaps Mark Toothaker of Legacy Bloodstock said it best during the Fasig-Tipton Kentucky July select yearling auction: "The bull's-eye is getting smaller on what the marketplace is wanting. It's gone from about the size of a quarter to the size of a dime."
Many of the trends seen at the sale, held July 14 and 15 in Lexington, were familiar to the Thoroughbred marketplace. The supply of horses was high, and buyers were picky. But with the health of the American economy in a dramatic decline, the effects of those not-so-new developments were exacerbated.
Shoppers were even more discerning, and the large number of yearlings available had a more difficult time finding new homes. The number of horses sold, gross revenue, average price, and median price all suffered setbacks while the buyback rate rose from 32.1% last year to 38.8% this year.
"Every night you go home, you watch the news and it's nothing but doom and gloom about the economy and about gas prices," Toothaker said. "Especially when people are filling up their cars at the gas station, it certainly keeps getting reinforced in their minds that things aren't as good right now as maybe they were last year. It makes people more cautious, and I think what it does is it causes a flight to quality, and people say, 'We're going to go with the safe horse.' They would rather be on that kind of horse than a marginal horse."
As a result, Toothaker said: "It's strengthening the upper end horses, and I think it's probably strengthening a little bit of the middle. But the bottom horses, it's just killing them because there is nobody there for them."
Other sale participants agreed with Toothaker that a tough economic environment are causing shoppers to be more careful about which horses they buy.
"When you get times like this, people aren't going to be as cavalier with their money," said Team Valor International's Barry Irwin, who purchased yearlings to race. "If they see something they like, they'll buy it. But just buying stuff on a frivolous basis, it's not going to happen."
Florida yearling-to-juvenile pinhooker Eddie Woods emphasized quality in his search for stock.
"If you try and buy the top end horses, you're probably going to be OK," he said. "The guys who buy them (as 2-year-olds), the economy doesn't bother that much. The middle range horses are the ones that we're going to have to be very selective on. It seems where we get hurt is on those really good, solid, blue-collar horses. Most of the time, there is nobody there for them, but there's always somebody for the good horses, so you just buy the better horse and hope for the best."
If the squeeze on the Thoroughbred marketplace caused by the declining American economy continues for an extended period, commercial breeders will be forced to make significant cutbacks in the number of mares they own, according to Toothaker and Maryland-based consignor Bill Reightler. Consequently, the number of foals produced for auctions will drop, but they should be higher in quality.
"The breeders are going to have to continually look hard at their mares, scrutinize their herd, and cull," Reightler said. "They'll probably have fewer mares, and they'll probably breed to a little more fashionable stallion."
Added Toothaker: "What it's going to ultimately do, if the market stays the way it is, it's going to hurt the cheaper mares. We all know that there's a certain amount of money it costs to get one of these yearlings raised, and when every one of those cheap mares is hurting you (financially), you're going to start getting rid of those mares."
Copyright © 2015 The Blood-Horse, Inc. All Rights Reserved.