InsideTrack: Different Kind of Beginning
by Esther Marr
Date Posted: 7/14/2008 5:07:06 PM
Last Updated: 7/23/2008 3:57:18 PM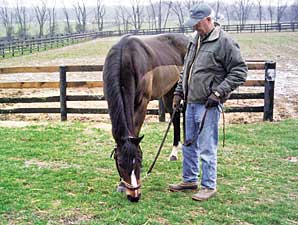 Stolen Chevy with trainer Mike Estes
Photo: Andy Roberts

In this day and age, more and more stories seem to be popping up about Thoroughbreds being retired from racing and retrained to do different jobs, from police assistants to track ponies to show circuit performers.

And though it's not as common for a Thoroughbred to enter racing after being trained to do something else, such was the case with a colt named Stolen Chevy, who was initially educated on a jog cart alongside a Standardbred companion, after which he became a multiple winner as a Thoroughbred racehorse.

Stolen Chevy was bred and raised by the University of Kentucky's Maine Chance Farm near Lexington. The farm's horses are studied in the department of animal and food sciences' research program, which is part of UK's College of Agriculture.

Stolen Chevy's dam, Dixie too Cute, was owned by Ralph Rose of Runners Ridge near Versailles, Ky., who donated the mare to UK after she had some physical ailments upon retiring from racing.

Laurie Lawrence, an equine nutrition professor at UK, said the mating with Dixie too Cute was decided when a Flying Chevron season was donated from Glencrest Farm.

It seemed like a good match physically, pedigree-wise, and the fact Flying Chevron had produced a high percentage of runners from a fairly low number of foals.

It just so happened that Rose was a client of veterinarian and Standardbred owner Dr. Andy Roberts, who often performed pro bono medical work for UK's horses.

"(Stolen Chevy) went to the sale, and he was a nice-looking colt, and he wasn't bringing a bid," said Roberts, who had remembered the colt from when he was at the farm. "I didn't need another horse, but I did need a playmate for a yearling pacing colt (named Doc's Poker King) I had at the time, so for $1,000, he was a buddy."

"Our horses usually have modest pedigrees and they don't bring a lot of money," said Lawrence of UK's equine program. "But the revenue goes back to our program, so we are always trying to improve our horses. We want to make sure that our horses are as representative of the horses in the commercial industry as possible."

When Doc's Poker King was shipped to a training center near Paducah, Ky. to begin his schooling, Stolen Chevy went with him.

"My Standardbred trainer (Randy Jerrell), who is a pretty good hand—his son rides bulls, and they have Quarter Horses—was able to get (Stolen Chevy) going, and he was broke to harness and trained down pulling a jog cart," said Roberts.

Lawrence, who described Stolen Chevy as an average, attractive-looking foal with a sensible disposition, kept up with his progress through updates from Jerrell's wife, who is a 4-H agent for UK's cooperative extension service.

When Stolen Chevy got closer to actually starting a racing career, however, Roberts said he developed some bad habits and behavioral problems.

The solution was bringing him back to Lexington to be castrated and begin traditional training for a racing career at the Thoroughbred Center.

"He had a little fracture in his knee as a 2-year-old after his first start and had it removed, and then he came back this year and won his first three starts," said Roberts of Stolen Chevy, who captured those victories by a combined margin of 191⁄2 lengths this spring at Mountaineer Casino Racetrack & Resort.

Although Stolen Chevy had a much different beginning than most Thoroughbreds, Roberts believes his early jog cart training could be part of what has made him successful thus far in his career.

"(Horses trained on jog carts) have a little different work ethic," Roberts explained. "They go more mileage, and of course, there's no weight on their back."

Stolen Chevy's current trainer, Mike Estes, said while the gelding was manageable and intelligent upon arriving at his barn, he couldn't detect any major differences between his disposition and willingness to train compared with other young horses.

"To me, when I break horses, I put them in the round pen, get them used to the tack, drive them with double lines, and get them stopping and turning, but (harness racing trainers) are basically just doing that with a cart," explained Estes. "I find it easier doing it on the ground, because if they decide they're going to run off, they're going to run off in the round pen, and I'm not on the cart behind them—that makes it a lot easier for me," he laughed.

Estes said Stolen Chevy had broken a half-step slow in his most recent start, the May 31 Ohio Derby (gr. II) at Thistledown, was unable to make up any ground, and was pulled up as a result.

"If everything goes well, we'll be ready to run him again at the end of this month," said Estes. "In a perfect world, (the Aug. 2 West Virginia Derby, gr. III) would be a good place to go, but the best thing for this horse right now is to go back to an allowance race and get his confidence back and regroup, and we can always go back up again.

"(After the Ohio Derby) he needed time to mentally and physically regroup, but today he's a picture of health. His coat's shining and glowing and dappled and he's happy, and we'll live to fight another day."



Copyright © 2015 The Blood-Horse, Inc. All Rights Reserved.