Nafzger Ready for Hall of Fame Induction
by Deirdre B. Biles
Date Posted: 7/12/2008 6:16:14 PM
Last Updated: 7/16/2008 9:04:55 AM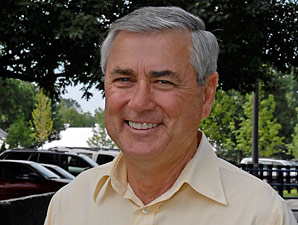 Carl Nafzger
Photo: Anne M. Eberhardt
According to trainer Carl Nafzger there are three stages you go through after you are elected to racing's Hall of Fame.
"First," he said, "you're in awe. Second, you're like 'Wow, I'm in the Hall of Fame.' Third, you realize there is a hell of a lot of responsibility to being in the Hall of Fame. You represent an industry that has been good to you, and you represent a business that you've worked in all your life."
Nafzger will be inducted into the Hall of Fame during an Aug. 4 ceremony in Saratoga Springs, N.Y. He was in Lexington July 12 to inspect horses consigned to the Fasig-Tipton Kentucky July select yearling sale, which begins its two-day run July 14.
The trainer has his Hall of Fame speech ready, and he knows a little bit about what the induction experience will be like because he received the Professional Bull Riders Ring of Honor last year for his rodeo accomplishments during the 1960s.
"I've been more than fortunate," Nafzger said. "The most amazing thing that my wife Wanda and I have found out since I was elected to the Hall of Fame is all the people who are coming (to the induction ceremony). They tell us, 'We're coming; we're coming' we're coming.' We've just had a great response from it."
If Nafzger could have his way, his wife also would be honored with a Hall of Fame induction.
"She should be the one in there," he said. "People don't understand if you don't have somebody backing you and with you all the time, it's hard to keep going. She's been there for me all of my life, and I call her 'The Little Rock of Gibraltar." When the water gets to running rough, I just grab hold of her and the good Lord and hang on."
Nafzger saddled Unbridled to win the Kentucky Derby (gr. I) in 1990, and he sent out Street Sense to capture the Run for the Roses in 2007.
"One thing I always try to remember, it's always been the horse that took us there," the trainer said. "I've been lucky to have some really outstanding horses, and three or four were just phenomenal. My whole life has been concentrated on winning the right races instead of just winning races, and I think that's why I'm probably different from most trainers. I've been fortunate to win some of the best races in the country."
To Nafzger, his most satisfying accomplishment has been "to spend my life with Thoroughbreds and end up in the Hall of Fame. I was asked one time what the biggest achievement in my life was, and I said, 'To be where I'm at and happy I'm here.' I've trained horses like Unbridled and Street Sense, and look at where I'm at."
Copyright © 2015 The Blood-Horse, Inc. All Rights Reserved.