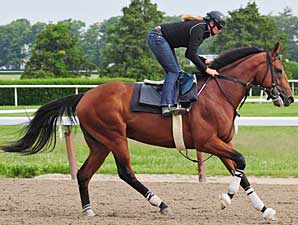 Trainer Rick Dutrow seemingly was OK with the work. "Just say he went fine," he said. When pressed for more information he added, "I have nothing more to say. I'm not about to call any reporters up and say any more than that."

The time was the third fastest of four horses working the distance.

This was Big Brown's second work since being eased in the Belmont Stakes (gr. II) after winning the Kentucky Derby Presented by Yum! Brands (gr. I) and the Preakness Stakes (gr. I).