Arlington Riders Greet Aspiring Jockey
Date Posted: 6/29/2008 6:18:06 PM
Last Updated: 7/1/2008 8:21:00 PM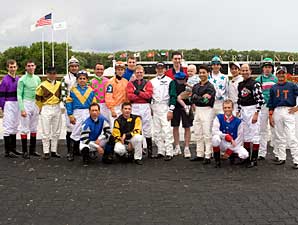 Three-year-old Brayden Cecchi and his father are joined in the winner's circle by the jockey colony at Arlington Park June 29.
Photo: Four Footed Fotos

(from Arlington Park)

Brayden Cecchi, a 3-year-old who suffers from leukemia but loves horses, horse racing and jockeys, presented the trophy following the second race at Arlington Park on June 29.

The youngster, who wants to be a jockey when he grows up, got to meet and talk with some of the Arlington jockeys during his time at Arlington Sunday. In past visits, Brayden has enjoyed being by the rail in the paddock where he has been able to wave and say "hi" to the horses and their jockeys.

The race was won by Midianite, ridden by Hall of Fame jockey Earlie Fires.

In addition, Brayden and his family (parents Colleen and David) met with jockey Brandon Meier in the jockeys room and paddock earlier in the day.



Copyright © 2015 The Blood-Horse, Inc. All Rights Reserved.