KEEP Adds Three Board Members
Date Posted: 6/27/2008 3:57:57 PM
Last Updated: 6/28/2008 2:50:04 PM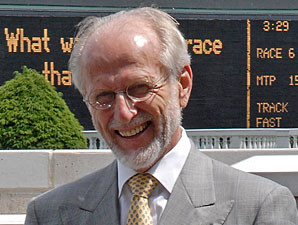 Dr. Gary Knapp, one of three new board members for KEEP.
Photo: Anne M. Eberhardt
(Edited press release)
At its June board meeting, the Kentucky Equine Education Project elected three new board members: Dr. Gary Knapp, Wayne Lyster III, and Andre Regard.

Knapp, the breeder of Kentucky Derby and Preakness Stakes (both gr. I) winner Big Brown, owns Monticule Farm near Lexington. He earned a degree from the University of Kentucky and left the state to pursue business interests in Texas. In 1989, he returned and founded Monticule Farm, which now encompasses 550 acres in Fayette County.

Wayne Lyster III is owner of Ashview Farm near Versailles, Ky. A native of Philadelphia, Lyster started Ashview Farm in 1978 with nine acres. It has since grown to a 350-acre breeding operation. He served as chairman of the Kentucky Racing Commission from 1992-1996.

Andre Regard is president of Occidental Thoroughbreds, a full service bloodstock agency and boarding farm near Paris, Ky. He and his wife, Trish who grew up on a Thoroughbred farm near Ocala, Fla. operate Occidental from their farm in Bourbon County.

"KEEP is proud to add such respected horse industry folks to our board," said KEEP chairman Brereton Jones. "Each of these gentlemen has a passion for the success of the horse industry in Kentucky and will work with KEEP to further its mission."

Copyright © 2015 The Blood-Horse, Inc. All Rights Reserved.