Charity Wagers Considered for Big Apple Breeders' Cup
by Tom LaMarra
Date Posted: 6/13/2001 11:18:01 AM
Last Updated: 6/14/2001 9:32:51 AM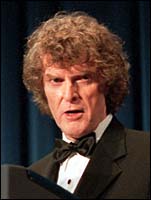 Radio personality Don Imus.
Photo: Associated Press

The success of a charity promotion on the "Imus in the Morning" radio show has led National Thoroughbred Racing Association officials to consider a similar endeavor tied to this year's Breeders' Cup championship Oct. 27 at Belmont Park.For the June 9 Belmont Stakes, New York sports radio personality Mike Francesa made $50,000 in wagers to raise money for the Imus Ranch, operated by "Imus in the Morning" host Don Imus. His wagers produced a profit of more than $12,000. Through the three Triple Crown races, more than $80,000 was raised for the charity.The NTRA was one of the initial contributors to the kitty. Win or lose, $50,000 would have gone to the Imus Ranch."Mike Francesa and some NTRA people kicked around the possibility (of making wagers on or selections for the eight Breeders' Cup races), but I don't want to presumptuous," NTRA commissioner Tim Smith said. "We just thought if it worked so well for the Triple Crown, maybe we should look at the Breeders' Cup."Smith said the NTRA, now that it has a joint operating agreement with the Breeders' Cup, is keen on promoting its return to New York. In 1995, the last year the championship was held in New York, the smallest crowd in Breeders' Cup history -- 37,246 -- was on hand."We're doing a variety of things with the New York Racing Association just to try to make the Breeders' Cup at Belmont as successful as the Belmont Stakes and Triple Crown have been," Smith said.This year's Belmont drew more than 73,000, the fourth-largest crowd in the history of the race.



Copyright © 2015 The Blood-Horse, Inc. All Rights Reserved.