Riders to Test Crops in Colonial Race
by Nick Hahn
Date Posted: 6/19/2008 12:37:19 AM
Last Updated: 6/21/2008 2:31:11 PM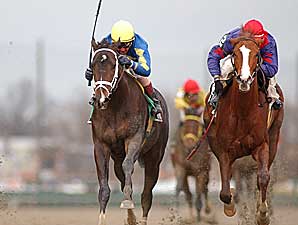 Photo: Skip Dickstein

There are four stakes races on Colonial Downs' Turf Cup card June 21, but a race earlier in the day will have many closely watching as well.

Jockeys will use crops in lieu of whips in a race prior to the stakes races at Colonial Downs. Crops are "shortened whips", at least three inches shorter with a longer tap or tip. Crops are used in England, Ireland and in steeplechase races in the United States.

Officials have not said which race has been designated for the experiment, but it is believed that the crop race would be the fifth on the card, an allowance optional claiming race at one mile on the inner turf. The stakes schedule begins in the sixth with the $35,000 Old Nelson, followed by the $60,000 Buckland, the $200,000 All Along Breeder's Cup (gr. IIIT) and the $600,000 Colonial Turf Cup (IIIT).

Frank Petramalo, the executive director of the VHBPA, displayed the riding instruments to the Virginia Racing Commission. All of the riders in the race would use the crop.

"I am willing to participate in this as long as the jockeys are also told that a ruling will be made and I think somewhere along the line this will happen," commented Iain Woolnough, Colonial's general manager, a former flat and steeplechase rider in Europe and Asia. "Europe has done this some time ago."

Woolnough said that the crop would also be tested during an entire card.

"Every horse you ride is different. The way you use something is different, too. Some horses (you) don't even hit, you just show them the stick. How you can change hands. There are other variables. One race wouldn't be fair. You probably ought to ride the card and decide whether you like it or you don't."

The impression crops make may be more audible than physical. Petramalo explained to the commission that while the crops are softer, they make a louder sound.

"In the heat of the race, a horse doesn't hear that much," added Woolnough after the meeting. "It's not that they're hearing it at all. I'm not in favor where some have said to ban whips altogether. It's a control item for a horse sometimes. You'll save a lot of accidents with it. Used correctly, it's a little encouragement. It tells a horse its time to get and go. Even with Big Brown in the Preakness, it was a little pop to tell him 'this is the time to go guy' and he just took off. I've never seen a horse accelerate like that. He didn't hit him; he just let him know when to go."



Copyright © 2015 The Blood-Horse, Inc. All Rights Reserved.