Profile of an Owner: Prince Ahmed bin Salman
by Ray Paulick
Date Posted: 6/12/2001 1:36:30 PM
Last Updated: 8/9/2001 10:08:33 AM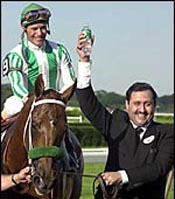 Prince Ahmed bin Salman with Preakness and Belmont winner Point Given.
Photo: Mike Corrado

Published in the June 16 issue of The Blood-Horse
Prince Ahmed Salman had done his best to bottle up the emotions that came with the devastating disappointment of Point Given's defeat in the 127th running of the Kentucky Derby (gr. I) on May 5. "It's horse racing, it's OK," he told friends after his homebred Thunder Gulch colt finished a well-beaten fifth as the heavy favorite in America's most sought-after classic. He put up a casual façade that only his wife, Princess Lamia, could see through.In truth, Salman was concealing a powder keg of anger and disappointment that intensified as the May 19 Preakness Stakes (gr. I) approached. Midway around Pimlico racecourse's final turn, Point Given lit the fuse that set off an emotional explosion inside of Salman, who was watching the live Preakness telecast with friends in the wee hours of the morning in his native Saudi Arabia."I was screaming at the television set, cheering, and then, suddenly, tears," he said. Salman hurried home to share the feelings with his wife. "It was quite an emotional experience," he admitted.There were no tears following Point Given's bravado performance in the 133rd Belmont Stakes (gr. I) on June 9, only sheer, unadulterated joy. And this time, the 42-year-old Salman was on hand at Belmont Park with friends to enjoy the experience."It was very exciting for him," said Point Given's trainer, Bob Baffert. "He's a very good winner. Very gracious. He knows how hard it is to win these big races and he feels very lucky when it happens. It's a big win for Saudi Arabia. The people back there love horses, and it's a huge thing back home for him to have a horse perform like that on the big stage."Salman takes pride in being the first Arab owner to win an American classic. With the final two-thirds of the Triple Crown in hand, he has a leg up on his friendly rivals, the Maktoums of Dubai, who have been unsuccessful in their quest to win the Kentucky Derby, Preakness, or Belmont. Salman said one of his goals in racing is to breed horses in Saudi Arabia who can compete in the world's greatest races.It's not as if Salman has nothing else to do with his life but concentrate on racing. He is chairman and CEO of Saudi Research and Marketing Group -- - a company he describes as the Middle East's largest media company, headquartered in Riyadh, Saudi Arabia, and with offices in Jeddah, London, and Washington, D.C. "I hustle like crazy," he said of his business, "so when I get the money it goes straight to Keeneland."Salman was exposed to horses at an early age, winning a Cup race at age seven and running Arabians in his native country in the 1960s. It was not until he attended the University of California, Irvine that he raced his first Thoroughbreds under the banner of Universal Stables."They were just claiming horses," he recalled. "That's all I could afford at the time."Salman's first trainer was Richard Mulhall, who now manages the operation known as The Thoroughbred Corp., which has its horses spread out among numerous trainers in Europe and the United States. Salman refers to Mulhall as his "best friend."A member of Saudi Arabia's royal family, Salman's father is Prince Salman, the mayor of Riyadh, and his uncle is King Fahad, who rules the oil-rich nation. But he insists that being born a "prince" does not mean a life of leisure."I know a prince in the Western world is a myth," said Salman, who points out that members of his family have worked hard to develop businesses, head universities, and run government ministries. "Being a prince means you have to conduct yourself in a certain way," he said. "But I never liked having His Royal Highness as part of my title for my racing stable. When I went to the university I wore jeans, T-shirts, and tennis shoes, and people knew me as 'Al.' "Salman's tastes have gone upscale as his businesses have grown. His Thoroughbred investments are valued in the tens of millions of dollars, and he is outfitted by a Beverly Hills designer. He attributes The Thoroughbred Corp.'s success to Sharp Cat, a $900,000 Barretts 2-year-old purchase of 1996 who went on to win seven grade I races and more than $2 million. The father of five children - -- four daughters and one son - -- said the Storm Cat mare is like a sixth child to him."Sharp Cat is amazing," he said. "Every time something bad ever happened in my business or private life, she would come and win races and pull me out of it. She is something special. Every horse owned by Thoroughbred Corporation is for sale - -- except for Sharp Cat. She is the founder of The Thoroughbred Corporation."



Copyright © 2015 The Blood-Horse, Inc. All Rights Reserved.