Baffert Stable's Teamwork Evident in Triple Crown Success
by Lenny Shulman
Date Posted: 6/11/2001 11:47:56 AM
Last Updated: 6/16/2001 9:16:26 PM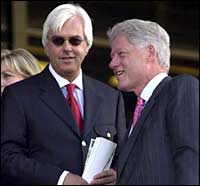 While Bob Baffert was entertaining former president Clinton, the trainer's team was preparing Point Given for the Belmont.
Photo: Mike Corrado

Published in the June 16 issue of The Blood-Horse
Jim Barnes' job wasn't over when Point Given hit the finish line 12 1/4 lengths ahead of his closest Belmont Stakes (gr. I) rival. Walking with the horse back to the barn area, they came too quickly upon an overflow glut of fans exiting the beautiful race day. Barnes jumped out of a conversation and grabbed the bridle, holding Point Given back from a potential incident. "Look at him," Barnes said proudly. "He never takes a deep breath."Ongoing, successful sports operations don't just get that way through the good fortune of chance. At the heart of achievement is the teamwork that melds individuals into a cohesive, powerful whole.So while trainer Bob Baffert is entertaining armies of media members (which is frequently), Jim Barnes is prowling the shedrow, keeping an eye on this feeding or that bath or a thousand other details. When Baffert, walkie-talkie in hand, is watching morning moves from the grandstand, workout and exercise riders Dana Barnes and Pepe Aragon are on the other end of the call, making sure the works go according to the boss' plan.Nowhere was this teamwork more in evidence than through this year's Triple Crown adventures of Point Given. Aragon became a famous photography subject in Louisville and Baltimore as he tried to hold on for dear life while the giant son of Thunder Gulch regularly reared up, making for scary moments of Thoroughbred rodeo. Nursing a hairline fracture in his cheekbone from the kick of another horse, Jim Barnes didn't miss a beat leading up to the Belmont, although he couldn't eat for several days. And on workout mornings, there was Dana, flying in from the California home she shares with Jim, making sure the star of the show went through his paces the right way.Baffert is able to gauge the state of the union through his assistants. Shortly before the Belmont, his confidence stemmed from his confidantes. "Jimmy says Point Given's like a volcano. He can feel it boiling up." He acknowledged that the sight of Dana relaxes the dual classic winner. "When he gets Dana on his back he knows he's gonna get a chance to strut his stuff."Jim Barnes has been involved with horses for nearly all of his 41 years. His father owned horses in Northern California, and Jim was cleaning stalls while still in single digits. By junior high school, he was galloping his dad's horses at the fairgrounds in Santa Rosa, north of San Francisco. He took out his trainer's license there, and eventually moved on to the Bay Area when he felt he needed to get serious about his career. It was there that he met his wife, Dana, who was working for trainer Michael Whittingham.Dana stayed up North hoping to establish a riding career, but changed her mind and went back to Los Angeles. Jim decided to follow her, and became Whittingham's assistant for six years, during which time they sent out Skywalker to capture the 1986 Breeders' Cup Classic (gr. I). Eventually he moved over to David Hofmans' barn when Hofmans conditioned Stronach Stables horses such as Awesome Again, Touch Gold, and Golden Missile.In the meantime, Dana had begun working for Baffert, and a position for Jim opened up under assistant Eoin Harty. After a year, Barnes saw Harty leave to take a job training 2-year-olds for Godolphin. "I said, 'Gee, Eoin, we're going to miss you, but thanks a lot.' That boosted me right up."Barnes inherited more responsibility as far as traveling, entering horses, making nominations, and lining up riders. This spring, while Baffert's Hollywood Park assistant, Tim Yakteen, went to Dubai with Captain Steve, Barnes stayed behind to work with the 3-year-olds and go on the Triple Crown trail. It's not just about the big guns, however. At Santa Anita's spring meet, Baffert may run up to 170 horses, an average of two or three per day. Barnes scours the condition book, making sure horses don't miss races.Dana leaves their two daughters to fly out for Triple Crown workouts, and to see her husband. Where most people shy from working with their spouse, it's often the best time the Barneses have to see one another. Dana comes in, rides the works, and is on a plane back home the next day. Working full time was fine once, but now she'd rather be with the children.There's not much rest, even after the grueling Triple Crown. It's then time for the 2-year-olds to take their first steps on the racetrack, and the Baffert team cranks up for Del Mar, where they've set records for stakes wins and total wins the past two years. "We train a lot from the gate," said Barnes. "Bob feels that's important, especially in California with its speed orientation. If you miss the break it's over. It's humiliating if they open the gates and your horse just stands there, so when Bob asks if they're ready to come out of the gate, you'd better give the right answer."Aragon has climbed aboard Baffert's horses for five years now. The Lima, Peru, native rode various circuits out West in the '80s, but always struggled to make weight. "I was very uncomfortable and unhappy -- you pretend you're OK but you're not feeling OK."Aragon followed his older brother George into the jockeys' room, leaving Peru before countryman Jorge Chavez had even climbed aboard a horse. Instead of struggling to make weight, Aragon is now enjoying his work. "I ended up in a good barn, and it's fun working with Bob. Many riders would like to be in my shoes or Dana's shoes. You always have good ones. All the riders look at the 2-year-olds this time of year and try to imagine which ones will be going to Kentucky. I've ridden Point Given for a year. I think I got him because he rears up all the time and I'm used to riding the wild ones. You have to relax, be cool, and hang on."Following Point Given's Belmont triumph, while Baffert was enjoying the champagne toasts, Jim Barnes, a look of pride creasing his face, walked alongside the winner. Congratulatory calls had already come in from Dana and Yakteen. "These are the moments that it's all about," he allowed. "Although I probably won't get to sit back and enjoy it until we get home."



Copyright © 2015 The Blood-Horse, Inc. All Rights Reserved.