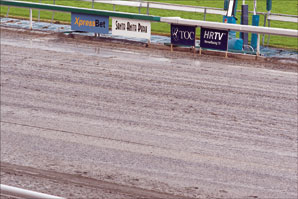 The Los Angeles Turf Club, which operates Santa Anita as a subsidiary of parent company Magna Entertainment Corp., recently filed a complaint in the U.S. District Court Central District against Cushion Track Footing USA and affiliate executives and companies. The charges include breach of contract, breach of express warranty, breach of implied warranty, negligent work and defective materials, and fraud.

The lawsuit claims the defendants, who include company directors Philip Bond and Paul Harper, failed to produce a track "identical" to the Cushion Track surface installed at Hollywood Park, as defined by contractual terms, and later breached its warranty by not fixing or replacing the defective material.

"Defendants knew or should have known that the formula it used for the track material ... was unsuitable for use as a synthetic track surface at Santa Anita race track," said the complaint, which was filed May 8.

The original Cushion Track surface has been blamed for the loss of 11 racing days during the most recent Santa Anita live meet, with track officials claiming the material didn't allow for sufficient draining.

The lawsuit claims the Los Angeles Turf Club spent: $5.2 million for almost 20,000 tons of Cushion Track material last April; nearly $1.4 million on repairs in December; and then, "because of the defendants' unwillingness and/or inability to resolve the defects in the track material," an additional $1.8 million on modifications performed by another synthetic surface supplier, Pro-Ride.

The Los Angeles Turf Club, which asks for a jury trial, seeks to recover at least the noted expenditures, but also for other damages, including lost racing revenue.

"LATC has demanded that defendants remove the track material at their expense, and refund the monies paid, as required by the contract," the complaint said. "Defendants have failed to do so."

Santa Anita's main track is still experiencing problems, and officials are considering replacing the asphalt base as a next attempt to rectify the situation. Santa Anita Park is the host site of the next two Breeders' Cup World Championships, including this year's event set for Oct. 24-25.

None of the defendants have filed a court response to the complaint. Cushion Track Footing USA issued the following statement when queried by The Blood-Horse about the situation: "Unfortunately, we are not in the position to issue a comment at this time. I do anticipate we will be able to do so in the near future."

One of the defendants, Equestrian Surfaces, is listed as a United Kingdom entity, while Cushion Track Footing USA and Equestrian Surface USA are believed to have Florida offices located in Ocala and Orlando, respectively.

Cushion Track's Web-site says the entity is part of a "group of companies" formed in the United Kingdom more than 20 years ago, which have collectively installed surfaces in Europe, North America, Australia, and the United Arab Emirates.