Bettors Speak Out on 'Signal Wars'
by Ryan Conley
Date Posted: 5/22/2008 9:00:36 AM
Last Updated: 5/26/2008 12:08:51 PM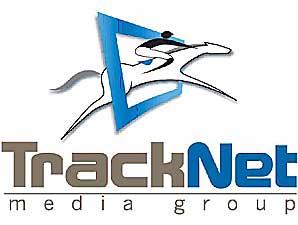 TrackNet Media is one of several ADW companies that are involved in simulcast signal disputes with horsemen's groups.
Photo: File Photo

No news here: What's going on in the current revenue-sharing fracas between horsemen's groups, racetracks, and advance deposit wagering companies is making headlines on a regular basis.

Turn around, and seemingly another track signal or two is cut off to an ADW over disputes with horsemen, followed by finger-pointing exchanges on who exactly is to blame. It's all out there: boycotts, handle drops, lawsuits, and purse cuts; bitterness and hard feelings.

What isn't as well known on as grand a scale is how bettors, the paying customers of ADWs, are reacting to the dramatic wagering storyline. Internet forums, populated by those very customers who wager online through ADWs, are filled with bombastic statements of disbelief and frustration, and threats of leaving the game altogether if things aren't straightened out in a hurry.

The Blood-Horse surveyed several bettors to try and gain a perspective from those who feel they have been neglected by the players controlling the very signals on which they want to freely invest their wagering dollars.

Speaking on the condition of anonymity for a variety of reasons, the bettors agree on one thing: Fix the mess, or they'll take their money elsewhere -- either out of horse racing altogether, or to venues that may not feed back into the pari-mutuel pool system from which purses funds and track revenues are gleaned.

"They have taken a great game and (expletive) on it," said a bettor from New Jersey who also owns horses. "And they think the players will take whatever they give us. But if they don't get it now, with the way things are going, they will find out later."

A bettor from Canada, who estimates he wagered $3 million on horse racing last year, said about half of his money now goes through offshore outlets, which for now are spared the wrath of the signal war combatants, or bookmakers, which don't process money through pari-mutuel pools.

"How many American businesses operate like this?" he asked. "It's unbelievable: They don't want my money. Getting a higher percentage of nothing is not a good return."

He said he wants to support the racing industry, but may consider a return to sports book betting if he sees trends continuing to head south. "They've never had any respect for the bettors," he said of racing. "Horse racing is so bad they don't even know who their own customers are. Some places have lost my business."

A large-volume player from Massachusetts, who is also a horse owner, said he is now wagering only 10% of what he has regularly wagered annually over the last few years. He said he won't wager through bookmakers or offshores, saying he "doesn't want to get into trouble," but bets less through domestic ADWs because his choice of tracks is limited, and ever-changing.

ASSIGNING BLAME

The Massachusetts bettor, who feels only a powerful national commissioner's office can rectify racing's problems, squarely places fault at the feet of the warring horsemen and racetracks.

"I blame them both," he said. "I blame the whole game. It's gone too far and gotten too far out of hand. Handle will go down. And racetracks will go down."

Some simply fault those operating under the umbrella of the Thoroughbred Horsemen's Group, an 18-member collective of national associations that is pitching a one-third share of takeout revenues realized from ADW wagers. Racetracks claim the model won't work.

"Not being a party to the inner circle, especially from the financial aspect, I don't know what it takes to run a business like Twinspires.com," said a bettor from California, referencing the ADW operated by Churchill Downs Inc. "So I can't comment on that.

"But from where I sit and from what I know, I am not sympathetic with the horsemen," he continued, saying he has owned horses involved in other equine disciplines, but not horse racing. "I know that the horsemen have a lot of money invested. But having said that, I still don't have much sympathy, because they knew (the involved costs) going into the game."

Others fault TrackNet Media Group, the content consortium of CDI and Magna Entertainment Corp., which burst onto the scene a little more than a year ago. Bettors say they find the early statements made by TrackNet officials hypocritical, claiming the entity preached about open distribution and non-exclusive signal agreements, but has actually curtailed signal distribution to national ADWs not affiliated with CDI or MEC.

REGARDING REBATES

Many big players want cash rewards, commonly called "rebates" in industry circles, for their wagering efforts. Rebates are typically awarded only from large-volume offshore shops, although a few domestic ADWs offer them.

"Look at all of the hoops that you are making people jump through," said the bettor from New Jersey, who is restricted by law to only playing through the state's regional ADW 4NJBets.com, a non-rebating entity. "What are you supposed to do, split all your money across nine ADWs so you can bet the tracks you want? I could set up a (limited liability company) in another state, but I don't think that's right. But are others doing it? Yes."

Players either want rebates, or have track takeout lowered closer to levels of casino betting, where the "rake" is often 10% or less.

"When online poker becomes legal, people are going to split," the New Jersey bettor said. "The amount that the track takes out is already ridiculous. And the horsemen want more?"

The Canadian bettor suggested that a single centralized North American ADW offering both scaled rebates based on betting volume and access to all tracks is a viable solution.

"In the ideal world, there would be one industry-supported ADW," he said. "Their goal has to be to get the pools increased, and this would work."



Copyright © 2015 The Blood-Horse, Inc. All Rights Reserved.