California Quick-Pick Inquiry Widens
by Jack Shinar
Date Posted: 5/21/2008 7:15:00 PM
Last Updated: 5/22/2008 4:25:08 PM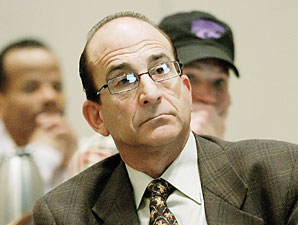 CHRB chairman Richard Shapiro
Photo: Tim Sharp


In its ongoing investigation of an apparent software glitch that affected "quick-pick" wagers, the California Horse Racing Board is looking into a charge made by its chairman that the New York-based tote company Scientific Games knew of the problem in February and did not report it to the agency or anyone else.

However, Bon Smith, assistant executive director of the CHRB, said May 21 that investigators "have no specific dates at this point" for when the tote company knew of the quick-pick failure, or if it failed to communicate with the agency in a timely manner. "We want to be certain," he said.

In a May 15 e-mail to Ed Martin, president of the Association of Racing Commissioners International, CHRB chairman Richard Shapiro contended that SG "apparently became aware of the problem in February, but they failed to disclose it to customers or certainly to us in California."

He added, "I expect if our initial findings are confirmed an accusation will be filed against Sci. Games."

"I have seen that e-mail," Smith said. "It is chairman Shapiro's proclivity to sometimes say things before they are confirmed."

Shapiro, who has declined to talk about the investigation publicly, did not return a phone call.

Martin said he forwarded Shapiro's e-mail to all racing commission jurisdictions to let them know of the problem. Quick-picks were suspended at all California wagering locations after officials confirmed the system failure May 9 following an initial report.

Tom Hodgkins, a spokesman for Scientific Games, declined to comment. "At this point, we have the an internal review going on at the highest level of the company. It would be premature to discuss a timeline for what happened until that is completed," he said.

Scientific Games has isolated the problem to a particular type of wagering terminal, the BetJet series, in which the highest number entry in a given race was automatically eliminated from the random mix of numbers generated for quick-pick wagers. There are reportedly 7,000 BetJet terminals in use at racetracks and satellite wagering facilities across the nation.

The snafu was discovered when a bettor at Bay Meadows purchased 1,300 quick picks at $1 apiece on the May 3 Kentucky Derby (gr. I) superfecta, in which the first four finishers must be selected in the exact order of finish. The bettor realized that the number 20, belonging to the eventual winner, Big Brown, was not included anywhere in the 5,200 possibilities and reported it. It was initially believed that the problem was limited to wagers such as the superfecta and multi-race bets like the Pick 4 or Pick 6, but it actually extended to all transactions involving the quick-pick key on both self-help and teller computer boards, officials said.

Smith said California investigators were looking at maintenance records to determine when the terminals were installed and what types of software changes were made. He said he hoped to have the investigation, which includes a wagering audit examination, completed "very soon."

The glitch's impact on betting pools is difficult to determine since quick picks in racing, unlike state lotteries that are marked as such, are indistinct from any other wagers, Smith said. If quick-pick race wagering is ever re-instituted in the state, he said the ability to separate such bets from others will be a requirement.

The quick-pick bet accounts for "a really narrow slice" of overall wagering, Smith said.

"The magnitude of the problem may be small, but to the wagering public, these types of errors are huge," ARCI's Martin said. "It's another example of why we need a ubiquitous independent monitoring system for these wagering systems."

Martin said that racing jurisdictions for the $15 billion industry should adopt ARCI's recommended "real time" monitoring system. So far, just one state, New York, has done so. He said that collectively, it would cost $4 million annually for a national system that would detect unauthorized access to wagering pools, alert officials to suspicious betting patterns or possible past posting, and provide yearly testing of software for defects. He said the system is ready to be employed across the country.

"We spend a lot of time and money policing the medication issue, but there is a collective need to focus more on parimutuel wagering," he said.

Meanwhile, California State Sen. Leland Yee, a Democrat whose Bay Area district includes Bay Meadows, has asked for an investigation by the state auditor's office.

"Certainly hundreds and potentially thousands of California consumers may have been defrauded," Yee said in a statement. "We have no idea who knew what and when."

Yee added: "I find it unconscionable that this has occurred and equally disturbing that there was never an independent audit of this wagering system."



Copyright © 2015 The Blood-Horse, Inc. All Rights Reserved.