Big Brown Draws Post Position 7
by Ron Mitchell
Date Posted: 5/14/2008 5:47:03 PM
Last Updated: 5/17/2008 10:04:23 PM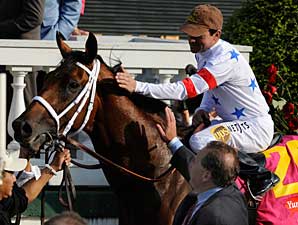 Derby winner Big Brown will break from post position 7 as the 1-2 morning-line favorite in the Preakness.
Order This Photo
Photo: Skip Dickstein


Undefeated Big Brown will break from post position 7 as the 1-2 morning-line favorite in Saturday's Preakness Stakes (gr. I) as the colt will attempt to duplicate his impressive victory in the Kentucky Derby Presented by Yum! Brands (gr. I).

Despite Big Brown's dominance in the Derby, the son of Boundary faces a dozen challengers in the Preakness. Gayego is the only Derby starter other than Big Brown to return for the Preakness.

Big Brown won the Derby from the No. 20 far outside post and he won the Florida Derby (gr. I) from the No. 12 post. Now, he'll test himself under Kent Desormeaux from nearly the middle of the pack.

"He gets to save some ground for the first time," co-owner Michael Iavarone said. "I don't know if that's a good thing or a bad thing. We'll find out."

Eleven winners have come from the No. 7 post, the last being Silver Charm in 1997. Silver Charm also won the Kentucky Derby, but was outdueled in the stretch run of the Belmont Stakes (gr. I) by Touch Gold to lose his Triple Crown bid.

Big Brown has won the first four races of his career by a combined total of more than 33 lengths. He was to arrive at Pimlico Wednesday night from Louisville, Ky., where he has been stabled since his Derby win on May 3.

Trainer Rick Dutrow Jr. didn't attend the draw since he was traveling on the plane with Big Brown. He has expressed concern about running Big Brown again so soon after his 4 3/4-length victory in the Derby. It will be the colt's shortest turnaround in his young career.

"We all know how hard it is to win the Kentucky Derby and come back in two weeks to win the Preakness," Iavarone said.

The colt will try to join Majestic Prince (1969), Triple Crown winner Seattle Slew (1977) and Smarty Jones (2004) as undefeated Derby winners who also won the Preakness. Six of the past 11 Derby winners have gone on to take the second leg of the Triple Crown.

Gayego was made the 8-1 second choice and will break from the No. 12 post under Hall of Fame jockey Mike Smith. The Arkansas Derby (gr. II) winner finished 17th at Churchill after a rough trip, beaten by 36 3/4 lengths.

Lexington Stakes (gr. II) winner Behindatthebar, trained by Todd Pletcher, was the 10-1 third choice and drew the No. 5 post. He skipped the Derby with the Preakness as his main target.

The other 10 starters were all listed at odds of 15-1 or higher.

Trainer Nick Zito, who won the 1996 Preakness with Louis Quatorze, starts Stevil, 30-1 on the morning line.

"There is something about a Triple Crown race. I didn't think there would be that many horses after Big Brown's performance (in the Derby)," he said. "He's very good right now, until something happens. The horse looks tremendous right now. You can't anoint anybody yet. You've still got to run the race."

Ken McPeek trains Racecar Rhapsody, another 30-1 shot ridden by Robby Albarado.

"Other than Big Brown, it looks like the race is wide open," he said. "We all know that anything can happen. You can't have any fear. It's good for him to be tested again. If he's going to be a Triple Crown winner, then make him work for it."

The post positions and morning-line odds are:

Horse/Trainer/Jockey/Owner(s)/Morning-Line Odds

1--Macho Again/Dallas Stewart/Julien Leparoux/West Point Thoroughbred/20-1
2--Tres Borrachos/Beau Greely/Tyler Baze/Beau Greely, John Greely IV, and Phil Houchens/30-1
3-- Icabad Crane/Graham Motion/Jeremy Rose/Earle Mack/30-1
4--Yankee Bravo/Patrick Gallagher/Alex Solis/Richard Duggan, Bienstock and Winner Stables, and Harlequin Ranches/15-1
5--Behindatthebar/Todd Pletcher/David Flores/ Padua Stables, Michael Shustek, and Don Stanley/10-1
6--Racecar Rhapsody/Kenny McPeek/Robby Albarado/Jerry Carroll, Stan Kaplan, Ronald Plattner, and Mark Guilfoyle/30-1
7--Big Brown/Rick Dutrow/Kent Desormeaux/IEAH Stables and Paul Pompa Jr./1-2
8--Kentucky Bear/Reade Baker/Jamie Theriot/Bear Stables/15-1
9--Stevil/Nick Zito/John Velazquez/Robert LaPenta/30-1
10--Riley Tucker/Bill Mott/Edgar Prado/Zayat Stables/30-1
11--Giant Moon/Rick Schosberg/Ramon Dominguez/Albert Fried Jr./30-1
12--Gayego/Paulo Lobo/Mike Smith/Cubanacan Stables/8-1
13--Hey Byrn/Eddie Plesa/Chuck Lopez/Beatrice Oxenberg/20-1



Copyright © 2015 The Blood-Horse, Inc. All Rights Reserved.