Derby Jockey Profiles: Julien Leparoux
by Claire Novak
Date Posted: 4/28/2008 6:42:58 PM
Last Updated: 4/29/2008 12:49:25 PM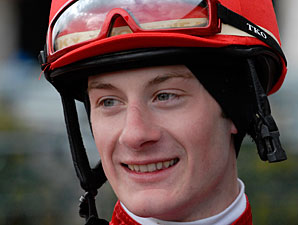 Julien Leparoux
Photo: Anne M. Eberhardt
Julien Leparoux adds a bit of French flair to the American racing scene, having developed a strong career in Central Kentucky at tracks such as Keeneland and Churchill Downs after getting his start on horseback in his native country and winning his first race at Saratoga Aug. 18, 2005. He owns riding titles at both Kentucky tracks and has won graded stakes at each repeatedly, but his best score came at Monmouth Park in the 2007 Breeders' Cup Juvenile Turf with Nownownow.

Cool Coal Man is 23-year-old Leparoux's second Derby mount; he finished fifth aboard Sedgefield last year in his first attempt.
Leparoux (Cool Coal Man)
Height: 5'5"
Weight: 108

Career wins: 735
Born: July 15, 1983 in Senlis, France
Residence: Louisville, Ky.
Family: Girlfriend Michelle; father Robert, who passed away in 2003, was a jockey and then became an assistant trainer in France.

Favorite sport: "Soccer. I played for five years when I was little."
Favorite food: "Pasta with yellow pepper sauce – it's very Italian."

Most hated chore: "To make the bed, I do not like it. Or cleaning in general."
I can't live without: "My car."

The fastest I've ever driven was: "130 miles per hour, in the morning going from Lexington to Turfway."
Another active rider I admire is: "Garrett Gomez, because he's the one who can adapt for every track or every circumstance."
If I could trade careers with another pro athlete, I would be: "David Beckham."
One thing I wish people knew about jockeys: "I wish people were looking at jockeys like they do football players, or basketball stars, or other major athletes. We are athletes, but people don't seem to see us like this."
The best part about winning this year's Derby would be: "Seeing a dream come true."
Copyright © 2015 The Blood-Horse, Inc. All Rights Reserved.