Derby Jockey Profile: Garrett Gomez
by Claire Novak
Date Posted: 4/26/2008 3:54:01 PM
Last Updated: 4/27/2008 6:50:37 PM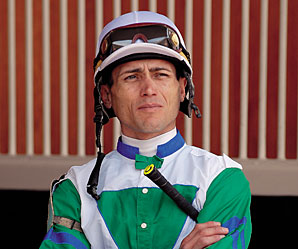 Garrett Gomez
Photo: Anne M. Eberhardt
With a nationwide network of top clients and an agent who keeps him on the country's best horses, Garrett "Go-Go" Gomez, 36, used up enough frequent flier miles last year to earn him plenty of free trips to Louisville. The key is finding a winner in the Kentucky Derby Presented by Yum! Brands (gr. I); the son of jockey Louie Gomez hasn't hit the board in four previous tries.

That statistic is somewhat surprising for the younger Gomez, who began his career in 1988 at Santa Fe Downs and won an Eclipse Award as the nation's outstanding jockey 19 years later. With four Breeders' Cup wins to his credit and a win in the 2007 Kentucky Oaks (gr. I) aboard Rags to Riches, this jockey couldn't be closer to a much-deserved Derby score. His mount this year is Court Vision, trained by Bill Mott.

Height: 5'3"

Weight: 114

Career wins: 2,921

Born: Jan. 1, 1972, Tucson, Ariz.

Residence: Duarte, Calif.

Family: Wife Pam; children Amanda, Shelby, Jared, and Collin.

Favorite sport: "Golfing. I picked it up in 1993. My best score ever was a 71."

Favorite food: "Japanese"
I can't live without: "My cell phone"

Most hated chore: "Laundry"

The fastest I've ever driven was: "160 miles per hour, but it was on a NASCAR track. My wife bought me a driving package for my birthday one year at California Speedway, and it's a lot of fun. You have a driver in there and you put a helmet on and they give you lessons and show you how to take the corners, which, being a jockey, I know angles, so it was easy to catch on."

Another rider I admire is: "Johnny Velazquez"

If I could trade careers with another professional athlete, I would: "Be Tiger Woods. But do you really want to be under the magnifying glass about everything like that, unable to go out in public without being stopped, you know? You can't really do anything. As far as being at the top of his game, though, the way he's playing, that would be it for me."

One thing I wish people knew about jockeys: "It's not as glamorous as people think it is. We put in a lot of hours, we show up and ride horses in the mornings, we ride in the afternoons, we fly in the evenings; we're working hard."

The best part about winning the Derby this year would be: "Doing something that not a whole lot of people get to achieve. This race happens once each year, but it happens to a horse once in a lifetime. It's one of those goals we all set out to achieve. As a kid growing up, it's one of the things you wish you'd be able to experience. It's one of those things that until you experience it, you don't know how it'll really feel—but you know it would mean a lot."

Copyright © 2015 The Blood-Horse, Inc. All Rights Reserved.