Derby Jockey Profiles: Eibar Coa
by Claire Novak
Date Posted: 4/24/2008 5:21:45 PM
Last Updated: 4/25/2008 1:20:59 PM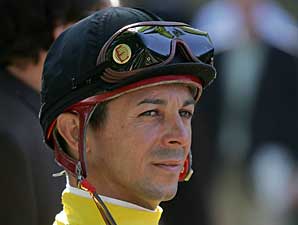 Eibar Coa
Photo: File Photo
Eee-bar. I-bar. Aye-bar. Eibar Coa doesn't care what you call him—or what you think of him. His bold edge, which some call egotism, is just self-confidence. The unforgiving techniques he employs on the racetrack are carefully-honed race-riding skills. And his intensely competitive side is an inborn trait that brought him success in other athletics, such as judo and basketball.

Launching his career as a U.S. jockey in 1993 after riding in Venezuela, Coa returned to his native country in 1994, but came back to the U.S. with guns blazing in 1996. He holds riding titles at multiple tracks, including Gulfstream and Calder, is currently the leading rider for Gulfstream's 2007-08 meet, and was the leading rider in New York by races won in 2006 and 2007.

Surprisingly, the 37-year-old had only one previous Derby mount—Eye of the Tiger—in 2003. They finished fifth, a position Coa hopes to better when he rides Tale of Ekati in this year's Kentucky Derby Presented by Yum! Brands (gr. I).

And, by the way, the correct pronunciation is "Ay-bar."
Height: 5'3"
Weight: 112

Career wins: 3,589
Born: Feb. 15, 1971, Monagas, Venezuela

Residences: Cooper City, Fla., and Laurence Harbor, N.J.
Family: Son Keibar
Favorite sport: "Basketball. I played for maybe six or seven years."
Favorite food: Spanish
Most hated chore: "I'm a handyman. I do everything around the house. Unless I really can't do it, I like to take care of things myself."
I can't live without: "My cell phone."

The fastest I've ever driven was: "115 miles per hour, coming from OBS in Ocala to Miami. The rental cars are the fastest ones on the street because you don't give a s--t about them so you go as fast as you can. Anyway, I had a good reason. I had to bring the rental car back before twelve and I was running late, but I made it."
Another active rider I admire is: "Edgar Prado. First of all, we're friends, and secondly, I think he's very smart when he rides."
If I could trade careers with another professional athlete, I would be: "Michael Jordan."
One thing I wish people knew about being a jockey: "Nobody knows what happens behind closed doors. We work hard all year-round—some of us do make good money, but it's all year-round work and dedication, so a lot of times we're not enjoying our lives and families. And even if you have money in your pocket, you can't enjoy your dinner."
The best part about winning the Derby this year would be: "Dedicating the race to my whole family. I don't really have one person that I would dedicate it to, but for sure, I've got to put together my whole family because of the support I get from them. It takes teamwork."
Copyright © 2015 The Blood-Horse, Inc. All Rights Reserved.