Derby Jockey Profile: Rafael Bejarano
by Claire Novak
Date Posted: 4/22/2008 7:45:13 PM
Last Updated: 4/23/2008 4:56:15 PM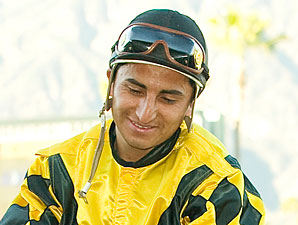 Rafael Bejarano
Photo: Benoit
He has a new first-rate home base (California) and a new first-call trainer (Bobby Frankel), but
Rafael Bejarano
, 25, will be back in Kentucky to ride
Anak Nakal
for Nick Zito the first Saturday in May.
It's hard to remember when this young Peruvian was working his way up the ladder with Zito's help, about a year after riding his first U.S. winner at River Downs in 2002. These days, he's more likely to be aboard top runners like 2005 Emirates Airline Breeders' Cup Filly & Mare Turf (gr. IT) winner Intercontinental and 2007 Emirates Airline Breeders' Cup Distaff (gr. I) winner Ginger Punch.
This will be Bejarano's fourth attempt at the Run for the Roses – he hasn't hit the board in three other tries.
Height: 5'2"
Weight: 105

Career wins: 1,640
Born: June 23, 1982, Arequipa, Peru
Residence: Louisville, Ky.

Family: Single
Favorite food: "I miss my Peruvian food. I've tested many flavors of foods here, but I don't really have a special favorite."
Favorite sport: "Soccer. I used to play in Peru a lot. But right now I'm concentrating on my job in a new place, and I don't have the time to get involved in another sport. The horses are number one."
I can't live without: "English school"
Most hated chore: "I have to do everything because I live by myself. I clean the house by myself. Maybe I don't like doing laundry, but I still do it."
The fastest I've ever driven was: "110 miles per hour, from Louisville to Keeneland. I had been working horses at Churchill in the morning and I was trying to get to Keeneland for the first race. I didn't want to be late."
Another rider I admire is: "Edgar Prado. He was a good friend for me, he has a good personality, and he's very humble with people. I try to follow his example. He was my mentor when I came here, and he's always been my friend. I was very happy to hear he was going to be inducted into the Hall of Fame."
If I could trade careers with another professional athlete, I would: "Keep riding. I love my job."
One thing I wish people knew about jockeys: "We try to be humble. We work hard every day...a lot. If you want something, you have to work hard to get it. We understand that."
The best part about winning the Derby this year would be: "Accomplishing something I really want to do. It's my dream to win the Derby and someday I will. I would dedicate the win to my country, this race, one of the most prestigious races in the world. I would also dedicate it to my mom, and she would be very happy. She doesn't understand too much about the races, but to me it is important, and when I really explain to her what it means to win, she'll know."
Copyright © 2015 The Blood-Horse, Inc. All Rights Reserved.