Derby Jockey Profile: E.T. Baird
by Claire Novak
Date Posted: 4/22/2008 7:34:41 PM
Last Updated: 4/23/2008 4:55:18 PM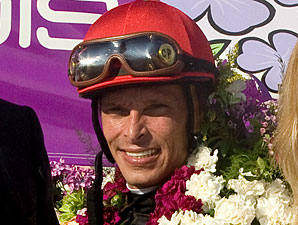 E.T. Baird
Photo: Four-Footed Fotos
He can't live without his cell phone. If he could choose another profession, he would be a rock star. He once drove 165 miles per hour to reach the track in time for the first race. And May 3, E.T. Baird will be riding to the post aboard
Recapturetheglory
in the 134th Kentucky Derby Presented by Yum! Brands (gr. I)
The windy city of Chicago is no easy place to build a riding career. Still,
E.T. Baird
, 41, has done just that since making his riding debut at Hawthorne Race Course in 1985. Baird followed in the footsteps of his father, the late Robert "Bobby" Baird, who rode until he was 62. As an apprentice, the younger Baird won the 1986 Hawthorne riding title with a then-record 103 wins. He was inducted into the Hawthorne Hall of Fame in 1998, but his career-best season did not come until 2007, when he won 121 races and earned $2,635,539 in purses.
This will be Baird's first start in the Derby, a race his father tackled five times between 1950 and 1978.
Height: 5'4"
Weight: 116

Career wins: 1,866
Born: November 19, 1966, in Chicago, Ill.
Residence: Palatine, Ill.

Family: Single
Favorite food: Sushi
Favorite sport: Football
I can't live without: "My phone"

Most hated chore: "I'll pretty much do anything I need to do."

The fastest I've ever driven was: "165 miles per hour. I'd been dating somebody out of state and was visiting her, and I had to get back in time to ride the first race. I was in a 300zx twin turbo; the pin stopped at 162, and I was over that."
If I could trade careers with another professional athlete, I would: "Rather be a rock star, to be honest with you."
Another rider I admire is: "The guys who do it for such a long time, older guys like Earlie Fires. You see a lot of guys come and go, and I like the idea of riders who have that busted-up, old warrior type of attitude. Those are the guys I admire, the ones who've been hurt and been busted up and keep on coming back, and when you see them coming back, you know they've got it."
One thing I wish people knew about jockeys: "This can be a big mental game. I don't think people realize how much pressure comes with it; not only mentally, but physically. You're riding under public opinion – and everybody has one – but you can't please everybody. It can be hard to deal with."
The best part about winning the Derby this year would be: "Well, it's every jockey's dream. The Kentucky Derby is like the Super Bowl of horse racing. There might be races worth more money, but as far as prestige, I don't know any rider who wouldn't give it all up to win the Derby."
Copyright © 2015 The Blood-Horse, Inc. All Rights Reserved.