Blue Grass Notes, The Day After
Date Posted: 4/13/2008 2:47:04 PM
Last Updated: 4/16/2008 12:08:26 PM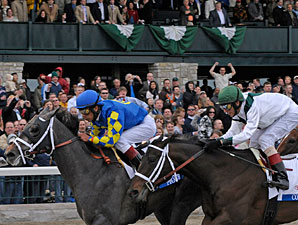 Todd Pletcher trains the Monba and Cowboy Cal, the top two finishers in the April 13 Blue Grass (gr. I).
Order This Photo
Photo: Anne M. Eberhardt
Edited Press Release
One day after his 3-year-olds ran 1-2 in the $750,000 Toyota Blue Grass Stakes (gr. I), trainer Todd Pletcher said he will take a few days before deciding when Monba and Cowboy Cal will ship to Churchill Downs in preparation for the May 3 Kentucky Derby Presented by Yum! Brands (gr. I).
"We're not in any huge rush," Pletcher said. "We'll see how they do here the next few days here and map out a plan."
Monba's victory gave Pletcher his second win in the Toyota Blue Grass, following Bandini in 2005, and the trainer's first grade I victory of 2008.
Monba and Cowboy Cal's performance should silence questions about Pletcher's prospects to return to the Kentucky Derby. Prior to the Blue Grass, he seemed a bit of a longshot to return to the race this year as none of his 3-year-olds had won a prep race.
"To me, as I've said before, the Derby is one of those things that if we get there and have a horse that's worthy of being there, that's great," he said. "I'm pleased that they ran as well as they did."
Meanwhile, Scott Blasi, assistant to trainer Steve Asmussen, reported that Pyro was "doing great" the morning of April 13. Sent off as the even-money favorite in the Blue Grass, Pyro finished a disappointing 10th.
When asked if plans still called for the Pulpitcolt to make his next start in the Kentucky Derby, Blasi responded "absolutely." Pyro currently ranks second behind War Pass on the graded stakes earnings list with $1,020,000.
Bear Stable's Kentucky Bear who finished third at 27-1, was "bouncing off the walls this morning," reported Cassie Garcia, assistant to trainer Reade Baker.
The third-place finish gave Kentucky Bear $75,000 in graded stakes earnings. Baker indicated after the race that he would take Kentucky Bear to Churchill Downs to prepare for the Derby even though the colt may not have enough graded earnings to make the 20-horse field.
Visionaire trainer Michael Matz said a slow pace probably contributed to his colt's fifth-place finish.
"(Jose Lezcano) said on the backside when he asked him to go, he wasn't ready to go yet," Matz said. "When he got to the quarter pole, then he started running. I think he was the only one that was moving, making up any distance. With the pace being so slow, none of those horses (in the lead) were coming back."
Matz said Visionaire would remain at Keeneland until about a week before the Derby and would turn in his next work at Churchill Downs.
Even though Briarwood Stable's Miner's Claim could finish no better than sixth, trainer Mark Casse found out one thing for sure.
"I know we've got a pretty good horse," said Casse of Miner's Claim, who made a bold run down the backside and was within four lengths of the lead in the stretch before flattening out. "If he had been in the position he was supposed to be, I think he would have run very well.
"He made a heck of a move on his own. He ran by some good horses and ran by them like they were tied. We are going to take him to Toronto, give him some time and get him back on the winning path and maybe look at the Travers or Haskell later on."
Eric Fein's Big Truck, who finished 11th, was "perfect" Sunday morning, according to Joe Rosalez, assistant to Barclay Tagg. "Look at him," Rosalez said, pointing to the son of Hook and Ladder as he reached his head out of the stall door to nip at a passing horse. "He came back fine, cooled out great, ate up his feed tub. He's a classy little horse."
Big Truck continues to hold on to a spot among the top 20 in terms of Kentucky Derby graded stakes earnings with $194,500. Regarding whether the colt will be pointed toward the Derby, Rosalez responded, "It's decision time."
Copyright © 2015 The Blood-Horse, Inc. All Rights Reserved.