Pinhookers See No Reason to Alter Course
by Leslie Deckard
Date Posted: 4/10/2008 5:08:11 PM
Last Updated: 4/11/2008 7:47:26 PM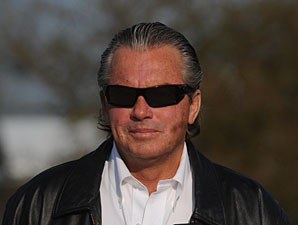 Mike Mulligan of Leprechaun Racing, agent.
Photo: Joe DiOrio
With the results of the five major select sales of 2-year-olds in training in the record books, pinhookers are now turning their thoughts to the summer yearling sale season and evaluating how much they are willing to spend, and how many horses they are prepared to purchase.
Many pinhookers said they did not plan to alter the number of horses they purchase, nor do they expect their budgets to decrease. However, many lamented the need for more buyers for their products.
"I think the whole market — yearling, weanling, and 2-year-olds — is a tremendous amount of product for a limited number of buyers," said Lexington-based Mike Akers of Dapple Bloodstock, who partners with Ciaran Dunne of Wavertree Stables in a pinhooking operation. "We have breeders programs in almost every state to give us an incentive to create more product. From a marketing standpoint, maybe we need a buyer's incentive to create more buyers. If the purses were higher, to where people had a chance to break even or better, then we might see more owners."
The first five 2-year-old sales produced a gross of $104,678,000, to average $193,848 for the 540 juveniles sold. In 2007, the 643 head sold grossed $118,971,000, to average $185,025.
"We will probably follow the same format as we did this year," said Mike Mulligan of Leprechaun Racing, agent. "We will buy between 40-50 horses that average between $75,000 to $100,000 with some horses costing $20,000 or $30,000, and some costing $200,000. We want to be in the situation where if our yearlings averaged $75,000 and we come out of the 2-year-old sales averaging $150,000, then we think we did great."
Akers said he and Dunne altered their philosophy entering the 2007 yearling sale season. "We tried to purchase horses in the $75,000 to $150,000 range that we could sell in the $200,000 to $400,000 range if they performed well and create a profit," he said. "We will probably be right back in the same area this time, too. We just don't have enough buyers on the top end of it to really make it sizzle like we would like."
Consignor Niall Brennan considered the 2008 juvenile market no better or worse than it was one year ago. "I don't think we will change our buying philosophy (for the 2008 yearling sale season), we never have before," Brennan said. " You still have to be very selective, and buy the best you think you can get for the money. Obviously, there is a ceiling now. We can't go giving $300,000 or $400,000 for a horse. It is just not happening on our end. Realistically, the average of the 2-year-old sales is in the $300,000 range. We need to be buying yearlings in the $100,000 range to give ourselves a chance to keep making a profit."
Eddie Woods best summed up the pinhooking plans for the 2008 yearling sale season. "We will just buy what we like and hope for the best."
Copyright © 2015 The Blood-Horse, Inc. All Rights Reserved.