Suffolk Downs Race Report: Fortuitous Decision by Trainer Delp
by Paul R. Daley
Date Posted: 6/2/2001 6:47:47 PM
Last Updated: 6/7/2001 1:26:19 PM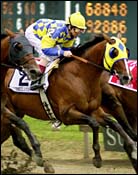 Jerry Bailey rode Include to victory in the Massachusetts Handicap.
Photo: AP/Steven Senne

Published in the June 9 issue of The Blood-Horse
In the 1950s, vocalist Dinah Washington crafted a hit with the song "What a Difference a Day Makes." For trainer Bud Delp and the Robert E. Meyerhoff homebred Include, the $500,000 Massachusetts Handicap (gr. II) at Suffolk Downs on June 2 could be titled "What a difference 50 minutes makes." Include, who won the MassCap drawing off from Sir Bear by four lengths as the 17-10 second choice--behind Broken Vow, who would finish third--suffered his only defeat in his last 10 races on a similarly sloppy track at Philadelphia Park last September in the Pennsylvania Derby (gr. III), pulling a muscle in the process. Consequently, when the Boston area was hit with a deluge of rain that didn't subside until nearly two hours before post time, Delp was sure he was going to scratch his prize property and await either the Brooklyn Handicap (gr. II) at Belmont Park or the Californian (gr. I) at Hollywood Park, both on June 10. The 69-year-old former conditioner of Spectacular Bid even went so far as to almost book a 5:30 p.m. flight out of Logan Airport. At 3:30 p.m., Delp was cornered in Suffolk's Topsider room. "I'll tell you what," said a chagrined Delp at the time, "I don't like the fact that all of the horses so far today are being taken out to the middle of the racetrack to race and finish, leaving the inside wide open. With our inside post position, that isn't good. We're going to need an awful lot of luck, if we go at all." Enter jockey Jerry Bailey, who two hours later would win his fourth MassCap (Cigar, 1995, '96; Skip Away, '98). The $150,000 James B. Moseley Breeders' Cup Handicap was run an hour before the MassCap with Bailey able to shoot favored Max's Pal to the rail for the victory, something which had not occurred to that point on the day. Bailey was overheard just outside the winner's circle telling Delp: "The track has changed since the fifth race. The crown was draining towards the inside, but now as it drains and packs the dirt on the inside it's becoming more uniform. The inside is getting better, the track is safe, and there is still a slight bias towards front speed, but not to the same degree as earlier." Delp certainly needed the reassurance, for he had just witnessed Lake Pontchartrain sustain a lateral sesamoid fracture to his right front foreleg while racing three-wide on the backstretch during the Moseley. He was pulled up in distress. Lake Pontchartrain, owned by Sanford Goldfarb and trained by Richard Dutrow, was stabilized in a leg brace and vanned to nearby Tufts Veterinary Clinic for a more formal evaluation. "I needed to hear from Jerry that the track was safe," Delp said. "It was. Horses break down every day and another horse (First Wolf) bobbled on the turn and still finished second in a photo in the sixth race. I had a tough job all day trying to gauge this track and I'm tired," smiled the Maryland trainer. As for the race itself, trainer Ralph Ziadie's game 8-year-old gelding, Sir Bear, surprised most in the crowd of 15,373 when he shot out of post one to challenge Broken Vow, the even-money favorite who was thought to be the controlling speed. After sending Include after those two, Bailey decided to play possum and tuck behind the dueling leaders into and out of the backstretch, three lengths in arrears while biding his time for Include's patented turn move. From Bailey and Delp's perspective, the race couldn't have developed any better, with the first quarter run in a moderate :23.33 but then followed by two quarters of :23.62 and :23.93, cooking both Broken Vow and Sir Bear, though Sir Bear held on gamely for second. With three furlongs to run, Bailey knew he could take the leaders at will. "When I saw that forty-six and four-fifths second fraction, I knew we were in great shape," opined Delp. "I was especially confident at the three-eighths pole, because Include loves to finish strong. I didn't tell Jerry (Bailey) how to run the race, but suggested to him that he warm up Include good, let him feel the slop, because of his bad experience with that rowboat track in the Penn Derby. I wanted Jerry to build his confidence." Indeed. Bailey only had to put the stick to Include's flanks twice in the stretch to keep his mind on business and win easy-as-you please. "Let's put it this way," laughed Delp in the interview room after the race, "the only reason Broken Vow was favored was because of the mishap in the slop last fall. But if I was a gambling man, I sure would have licked my chops at that $5.40 price today." How good is this horse who has now won nine of his last 10 starts and will have one more prep before the Whitney Stakes (gr. I) at Saratoga on July 28? In his earlier years, when training champion Spectacular Bid in the late 1970s, a younger, more flamboyant Delp would have made Muhammad Ali-like predictions. But Delp is enjoying this later-in-life ride to the winner's circle and his premonitions are more muted, especially comparing Include to Bid. "Spectacular Bid was like a cat," remembered Delp. "He could make three moves in a race. I don't think Include, as good as he is, could make three moves in a race. "Also, it's too soon to say that he's the best in the country," cautioned Delp, "but I'm not backing down from anybody, nor am I chasing anybody. But if we decide to run and Tiznow or Captain Steve show up, we won't scratch." So, even though Delp agonized over running Meyerhoff's valuable 4-year-old colt over a track similar to that which caused a previous injury, Bailey gave the veteran conditioner sound advice and 300,000 good reasons to compete. In the Moseley on the MassCap Day undercard, Raymond Dweck's Max's Pal showed that he will be a force to be reckoned with this summer and fall in the most prestigious six-furlong sprints on the East Coast. He stalked a fast pace and took over at the top of the stretch to post a facile three-length victory in a fast 1:10.03 on a sloppy Suffolk strip. Assistant trainer Chris Gardner, deputizing for Ben Perkins Jr., was duly impressed. "This is the gamest, most hard-knocking horse we've trained in our lives," enthused Gardner in the Suffolk winner's circle. "Max's Pal ran down Disco Rico, who won on Preakness Day, twice last year when there was no pace in the race," said Gardner, "and he ran huge in the Carter Handicap (gr. I) the day after the Kentucky Derby (gr. I) to Peeping Tom, a very good horse. We're going to pick our spots with Max's Pal, maybe next at Saratoga, but our long-term goal is the Breeders' Cup Sprint (gr. I). I know Mr. Dweck would love to run in a Breeders' Cup race. Any time they write a six-furlong race, we'll be there."   (Chart, Equibase)



Copyright © 2015 The Blood-Horse, Inc. All Rights Reserved.