De Kock, Godolphin Own Edge in UAE Derby
by Jack Shinar
Date Posted: 3/26/2008 4:03:47 PM
Last Updated: 3/29/2008 10:32:43 AM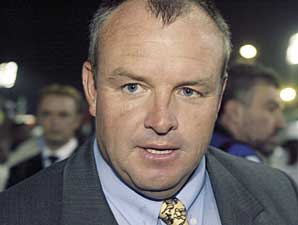 Michael de Kock has two starters in the UAE Derby (UAE-II).
Photo: Trevor Jones Thoroughbred Photography Ltd.

Mike De Kock, one of only two trainers to win the UAE Derby (UAE-II) appears to have an excellent chance for a fourth win in the race on March 29.

The South African will saddle Royal Vintage, to be ridden by Kevin Shea, and Honour Devil, with John Murtagh aboard, in the US$2 million event at about 1 1/8 miles. He says there isn't much to choose between his charges.

"I don't know who will come out on top but they are both in good form," De Kock said. "Honour Devil has proved himself a real fighter whereas Royal Vintage is progressive. That said, they are hopefully both improving."

The South African-bred Royal Vintage defeated Honour Devil by a head in an 1,800-meter listed prep race March 6 at Nad Al Sheba. That came after the Argentina-bred Honour Devil defeated his stablemate by a half-length in a group III race at about one mile over the same course Feb. 14.

Godolphin conditioner Saeed bin Suroor, the other trainer to win the UAE Derby, has a strong hand again with My Indy, to be be ridden by Frankie Dettori, the filly Cocoa Beach with Ted Durcan aloft, and Numaany, Kerrin McEvoy aboard.

The best American hope rests with Zayat Stables' grade III stakes winner Massive Drama, trained by Dale Romans and to be ridden by Garrett Gomez.

De Kock is wary of the opposition. "I expect a big show from the Godolphin duo My Indy and Numaany who will surely build on what they have shown," he said. "And their filly, Cocoa Beach, has looked good but we don't know how strong the races were."

The Godolphin colts were defeated by DeKock's duo earlier in the meet.

Twelve entered the 1,800-meter dirt test. However Zain Alma Aenee was a veterinarian scratch March 26.

After working five furlongs on March 25, Massive Drama walked at his barn in the Nad Al Sheba quarantine area the following day.

"He looks very good and handled the track real well," Romans said. He reported that the big son of Kafwain emerged from the workout in excellent condition.

Romans, best known in Dubai as the trainer of 2005 Dubai World Cup winner Roses in May, planned to jog Massive Drama on the main Nad Al Sheba track March 27 and visit the starting gate. Romans said the colt will gallop the following day and possibly jog on the morning of the UAE Derby. Massive Drama last raced Feb. 10, finishing third behind Georgie Boy in the seven-furlong San Vicente Stakes (gr. II) on the Santa Anita synthetic track.

Last month, owner Ahmed Zayat transferred Massive Drama from Bob Baffert to Romans at his Florida barn. And while Massive Drama is developing nicely, his new trainer knows that Massive Drama has to overcome history to become the first American-based colt to win the UAE Derby, which is open to older Southern Hemisphere breds.

"It's a hard race to handicap, at least for me," he said. "I know (the Southern Hemisphere-breds, including UAE classic winners Royal Vintage and Honour Devil) are older and have a little more experience, but I don't know how to evaluate the level of horses they've been running against."

$2 Million UAE Derby Sponsored by Al Naboodah (UAE-II, Race 3), about 1 1/8 Miles
PP. Horse, Jockey
1. Cocoa Beach (CHI), Ted Durcan
2. Numaany (USA), Kerrin McEvoy
3. My Indy (ARG), Lanfranco Dettori
4. Massive Drama (USA), Garrett Gomez
5. Rock Ascot (URU), Gaven Birrer
6. Ukrainian (BRZ), Richard Mullen
7. Light Green (BRZ), Michael Kinane
8. Royal Vintage (SAF), Kevin Shea
9. Honour Devil (ARG), John Murtagh
10. Scr--Zain Alma Aenee (KSA)
11. Strike the Deal (USA), Ryan Moore
12. Iide Kenshin (JPN), Shinji Fujita



Copyright © 2015 The Blood-Horse, Inc. All Rights Reserved.