March Review: Discussing the OBS Sale
by Deirdre B. Biles
Date Posted: 3/24/2008 10:38:42 AM
Last Updated: 3/27/2008 5:35:04 PM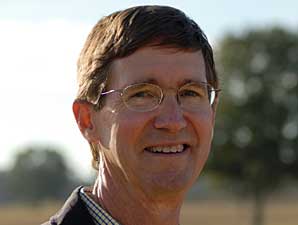 Mike O'Farrell, OBS chairman
Photo: Louise Reinagel
The Ocala Breeders' Sales Co. (OBS) March select juvenile auction established sale records for gross revenue, average price, and median price while enjoy significant increases from a year ago. Following is what some of the participants in the auction, held March 18 and 19 in Central Florida, had to say about the market:
Mike O'Farrell, OBS chairman: "The key is that there were a lot of nice horses here. I have had a number of buyers tell me there were an awful lot of very nice horses on the grounds. If you've got good horses, you have a good sale. There have been some good racehorses that have come from this sale, and the sale also has a wide variety of horses. It's got horses for the top end and for the middle, so it brings in a wide variety of buyers. I think, personally, that the new racetrack (with its synthetic Safetrack surface) has helped us."
Mike Ryan, Kentucky bloodstock agent: "It's a good sale with a lot of nice horses. There are a lot of California guys here, and they're spending a lot of money."
Joe Appelbaum, Off the Hook: "Things are tightening up, and these two, three, four, and five percent moves in the stock market on a daily basis have got to send shivers down peoples' spines, so coming in to the sale, I was a little nervous. But it held up pretty well. Maybe people have done so well in the last few years that they had some money put away or they've made so much money in the stock market run-up that they don't care and there is a little cushion from the economy. I was concerned and thankfully, my fears haven't been borne out. It's been a good surprise."
Nick de Meric, pinhooker: "There are good racehorses coming out of here, grade I winners. It's also a blue collar sale where there's something for everyone, and it's a marketplace where buyers and sellers can get what they want, which is a rarity these days."
Mike Mulligan, Leprechaun Racing: "I really believe the market is a product of supply and demand -- too much supply last year versus not enough of a supply of quality horses this year. We've never shown as many horses in a single year as we have this year, but the buyers are getting more selective about the type of horse they want. (Because of downturns in the juvenile marketplace in 2007), pinhookers were pulling up a little sooner on yearlings, putting them in a position where they were buying fewer $300,000 horses and more $100,000 to $150,000 horses. They're going to feel more comfortable with those horses in this market (OBS March) because they don't have to get $700,000 or $800,000 for them (to make a profit). They can get $250,000 for those horses and because that's the upper end of this market that's where they want to place them."
Justin Casse, Casse Sales: "The middle market buyers are here, and they helping support the sale. All the people who are going to buy horses for less than $300,000 wait until this sale (to start shopping). But there are buyers at all levels; even the Darley guys are here. You've also got a bunch of trainers here looking for the useful horses -- the allowance horses and optional claimers."
Bryan Rice, Woodside Ranch: "I'm afraid that some of the other (select juvenile) sales have such high quality catalogs that the middle market buyers just don't engage. This sale traditionally has a lot of people in the middle market hoping to find good value, so I think that it's well-attended. We're also blessed with the fact that operations at the top end are here shopping, too, so there is a broad spectrum of buyers. I didn't go to the barns to look at the other horses, but my wife (Holley) was here training and she said she saw a lot of horses that were 'eye appealing.' The prices show that it's a quality group."
Lance Bell, partner with Jerry Bailey of Jerry Bailey Sales Agency: "Everybody anticipated the sale being strong. There just seems to be a lot more buyers here than there are in other places. There's a place for the people who are looking for the $50,000 horse, and there's a place for people who are looking for horses at the top of the market. Buyers are saying there are a lot of good horses on the grounds. The consignors have done a good job of getting a certain amount of really good horses here, and then the sale company got the buyers here."
Copyright © 2015 The Blood-Horse, Inc. All Rights Reserved.