Perfect Pitch Earns $1M at Santa Anita
Date Posted: 3/15/2008 9:34:07 PM
Last Updated: 3/16/2008 8:18:21 PM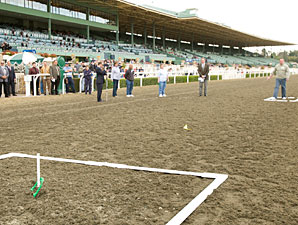 John Placzankis threw a perfect ringer and won first prize of $1 million in Santa Anita's annual St. Patrick's Day Horseshoe Pitch contest.
Photo: Benoit

(edited track release)
Horse racing's newest millionaire was crowned March 15 at Santa Anita and the lucky winner didn't even run in a race. John Placzankis, 41, of Rancho Cucamonga, tossed a perfect ringer and won first prize of $1 million in Santa Anita's annual "St. Patrick's Day Horseshoe Pitch" contest following the seventh race.

Placzankis, who remained unflappable in the immediate aftermath of his million-dollar toss, did exclaim to the on-track crowd of 15,660, "The drinks are on me!" when interviewed on live television.

He attended as part of a group sponsored by Old Dominion Freight Line and was one of five contestants whose names were drawn as finalists. "I barely got the entry in on time," said Placzankis, a native of New Rochelle, New York, who moved to California eight years ago. "I'm a big Duke (basketball) fan and I lost money on them today. I was watching the game and I wasn't thinking about the contest. In fact, my sales rep (Randy McNally, with Old Dominion) found somebody who told us where to go."

Placzankis said that he attended the races occasionally and that he was at Santa Anita for last year's St. Pat's Pitch, when "somebody almost got it.

"I was just trying to relax," he said. "I'm pretty calm and I was actually just trying to throw it like a softball … and I didn't want to go over the line." As for pitching horsehoes, Placzankis said, "I probably hadn't done it in like 30 years."

Placzankis, who is single, manages a warehouse for Hankook Tires in Rancho Cucamonga. His family remains in New York. "I'll pay some bills and take care of my nieces and nephews … I'm also going to take care of my mom back home."



Copyright © 2015 The Blood-Horse, Inc. All Rights Reserved.